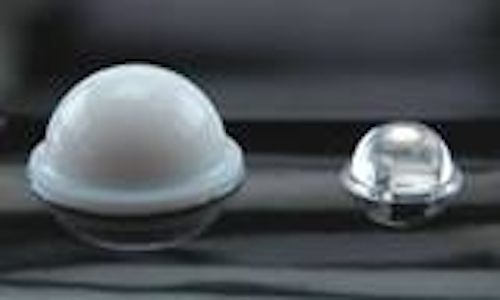 Today, almost all primary and secondary LED optics are made of well known and established materials such as PMMA (also known as Perspex or acrylic), PMMI, polycarbonate or specialty silicone. These materials satisfy the requirements of most LEDs in respect of spectral transmission and refractive index as well as temperature- and UV-A stability. Furthermore, all these materials are employed to produce large quantities of optical components via costeffective injection molding technologies.
Due to their absorption and degradation characteristics in the spectral range below 320nm, these organic materials cannot be used as optical components for UV-LEDs. Hence, manufacturers of UV-LEDs need to work with quartz glass components. These feature very high transmission rates in the required spectral range (>90% at 250nm) as well as excellent mechanical, temperature and long-term stability.
Until now, however, the only way to manufacture optical components from quartz glass was by using conventional diamond grinding and polishing processes. This is a result of the physical properties of quartz glass, and ultimately this leads to very expensive optical components and limits the geometrical variety of commercially available quartz glass optics.
+++++++
This article was published in the May/June 2009 issue of LEDs Magazine.
To read the full version of this article, please visit our Magazine page, where you can download FREE electronic PDF versions of all issues of LEDs Magazine.
You can also request a print copy of LEDs Magazine (available by paid subscription) and sign up for our free weekly email newsletter.