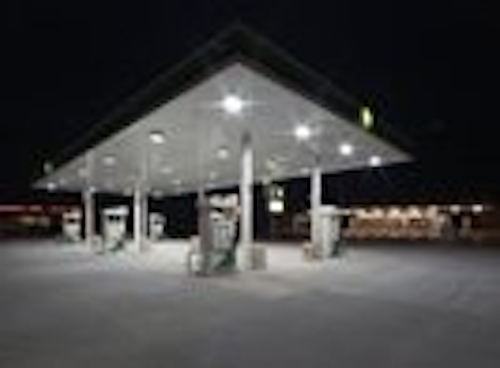 Most of us are consumers of gasoline, whether we drive an automobile or use mass transit. We are also a society insisting on convenience – fast food, quick service and easy access. These two demands have been leading the charge for the approximately 164,300 stand-alone gas stations in the United States and 115,000 combination convenience store (c-store) and gas stations.
While demand is high, regardless of pump or shelf prices, profit margins are extremely tight in these industries, requiring c-store and petroleum operators to be astute. Owners need to realize customers are often drawn to their properties because of perceptions of cleanliness, safety and a friendly atmosphere. Given how important the company's corporate identity and curbside look is to generating business, lighting choices should be carefully evaluated.
Previously thought about primarily for aesthetic purposes, lighting can have a tremendous impact on the bottom line. In an industry such as gasoline and c-store retailing, where competition is fierce and profit margins are increasingly shrinking, cost containment is vital to profitability. Advances in technology and engineering are now making it possible to use high-efficiency LED lighting for commercial applications. This new light source provides a way to reduce energy costs while still meeting properties' lighting needs.
+++++++
This article was published in the April 2008 issue of LEDs Magazine.
To read the full version of this article, please visit our Magazine page, where you can download FREE electronic PDF versions of all issues of LEDs Magazine.
You can also request a print copy of LEDs Magazine (available by paid subscription) and sign up for our free weekly email newsletter.