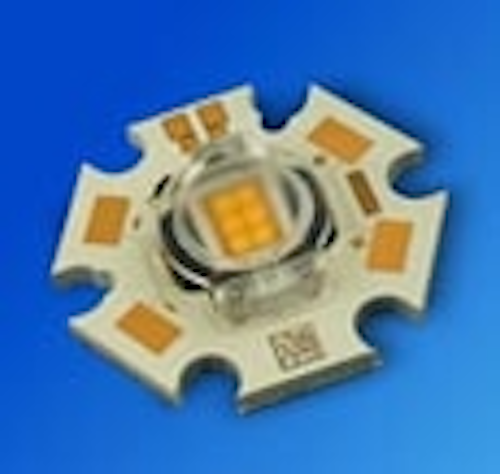 Over the years, various materials have been used for optics attached closely to the LED chip, beginning with epoxy used directly for the housing of the well-known 5mm LEDs, for example.
Today, materials such as PMMA (polymethyl methacrylate, also known as perspex or acrylic), PMMI (polymethyl methacrylimide) and PC (polycarbonate) are quite commonly used for lenses and other optical elements to realize different emission characteristics of high-brightness LEDs. Their advantage is the low cost of the plastic resins, as well as the high transparency and easy manufacturing with standard precision injection methods.
On the other hand, with the increasing radiation density and power of LEDs, especially blue and white, these organic materials reach their limits. The high temperatures and UV content near the chip cause cracking of chemical bonds, resulting in yellowing of the material which reduces the transparency.
Typically, once this degradation process has started, it accelerates itself due to the increased energy absorption, resulting in rapid failure of the optical system. The higher the performance of the LEDs and the closer the optic is attached to the die (which is desired to achieve better efficiency), the higher is the probability that this degradation occurs. There is only very limited possibility to improve the resistance of the plastic material, due to their organic nature.
+++++++
This article was published in the May/June 2008 issue of LEDs Magazine.
To read the full version of this article, please visit our Magazine page, where you can download FREE electronic PDF versions of all issues of LEDs Magazine.
You can also request a print copy of LEDs Magazine (available by paid subscription) and sign up for our free weekly email newsletter.