Black LEDs at heart of Barco NX-4 indoor display
The latest display technology from Barco includes black LEDs, wide color gamut and a lightweight framework, writes Tim Whitaker.
Oct 18th, 2007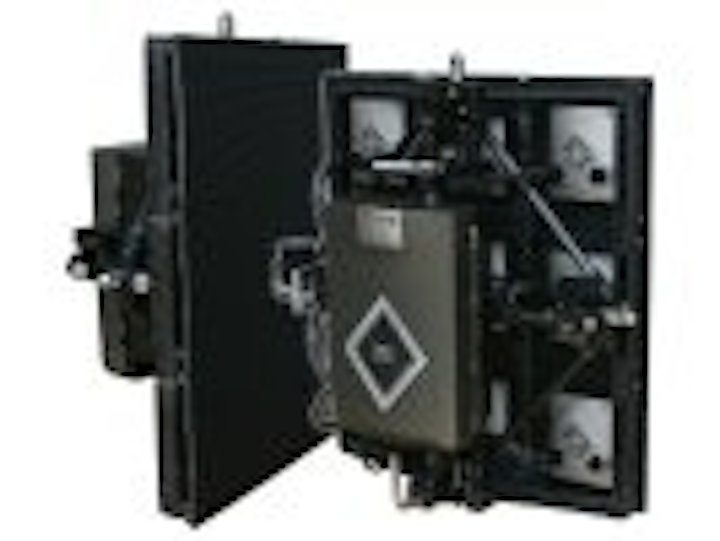 The NX-4 indoor display, the latest high-resolution LED display screen from Barco, incorporates a number of technology developments – not least black LEDs – that contribute to a screen brightness of 2000 nit and a very high contrast ratio of 4000:1 (at 500 lux). The 4.6-mm pitch LED tile, combined with a new purpose-built DX-700 processor, was previewed at the InfoComm show in June this year and is expected to debut in early 2008.
Unlike larger-pitch outdoor screens that use individual red, green and blue LEDs, the NX-4 uses one SMD package for each pixel, with each package containing a red, a blue and a green chip. But when the LEDs are switched off the display appears black, as described below. The LEDs are arranged at a density of 45,931 per square meter or 4271 per square foot.
An NX-4 tile, shown here, measures 0.448 m wide by 0.504 m high, and consists of 9 LED modules mounted onto a frame. Barco has developed a carbon-fiber framework structure, the Mag-frame, which is stronger, lighter and less easy to deform than current metal box structures. This is very important for ensuring tight tolerances during assembly, and means that large displays composed of multiple tiles appear seamless. And rather than using screws, the modules are fixed to the frame using neodymium magnets. The system has been designed for rapid setup, with simplified electrical connections, and this is particularly of interest for the rental and staging communities.
The tiles contain 96 x 108 pixels and have an aspect ratio of 8:9. For 2 tiles placed side by side the configuration is 16:9, as required by high-definition (HD) broadcasts. HD resolution of 1920 x 1080 pixels is achieved with a 20 x 10 array of NX-4 tiles. A display of this size would measure 8.96 m wide x 5.04 m high and would contain slightly over 2 million LEDs.
+++++++
This article was published in the September/October 2007 issue of LEDs Magazine.
To read the full version of this article, please visit our Magazine page, where you can download FREE electronic PDF versions of all issues of LEDs Magazine.
You can also request a print copy of LEDs Magazine (available by paid subscription) and sign up for our free weekly email newsletter.