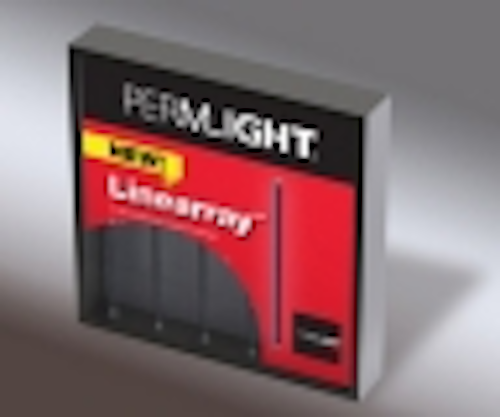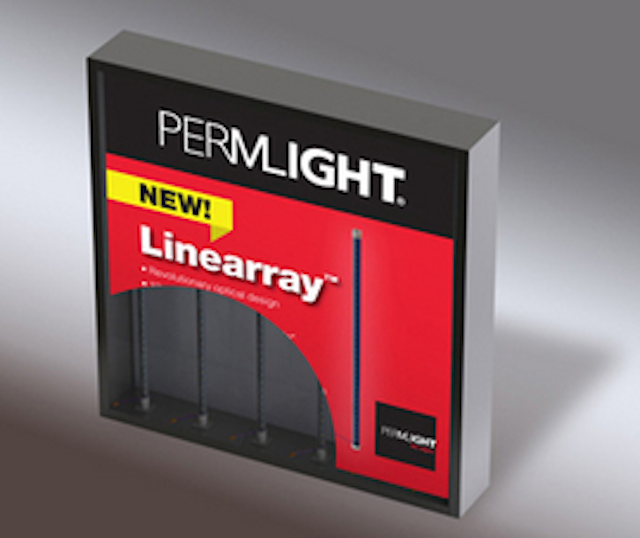 Date Announced: 24 Oct 2012
Tustin, Calif. – Permlight® products announces Linearray™, the premier LED replacement light engine for double-sided cabinet signs.
Linearray™ easily mounts into existing recessed double contact sockets and provides the user with 37 percent power savings with 4 to 6 times longer installed life compared to the legacy HO fluorescent lamps! Linearray™ uses the latest LED technology, mounted in a Permlight® exclusive heatsinking spine with integral optics.
This self-contained light engine easily mounts into the cabinet sign, utilizing the installed RDC sockets and can be properly aligned by means of spring-loaded, indexing bases. With quick connecting plugs and polarized cables to make the interconnections, the Linearray™ can be installed in minutes. In-situ testing shows higher sign facial luminance and improved uniformity compared to the traditional sources.
Permlight® has patents pending for the technology that has made Linearray™ possible.
With ease to install, energy savings and maintenance savings, the Linearray™ provides superior performance and life cycle cost savings compared to any competitive products!
See more: http://permlight.com/applications/cabinet-signs/
About Permlight Products, Inc.
Tustin, Calif.-based Permlight Products, Inc. is a leading designer and manufacturer of high-powered LED light engines for use in signs and luminaires. For over fifteen years Permlight has led the way in LED technology using patented thermal management techniques to create light engines that are brighter, more efficient and longer lasting. Permlight's sign division Permlight for Signs develops high-powered LED systems for illuminated signs and its luminaire division Brillia focuses on off-the-shelf and custom light engine solutions to lighting fixture manufacturers. The company's extensive portfolio of products continues to guide the industry and the advancement of solid-state lighting.
For more information about Permlight Products, Inc., visit www.Permlight.com or call 714-508- 0729.
Contact
Nicole L. Swift Durik Advertising, Inc. 114 SE Parkway Ct., Suite 100 Franklin, TN 37064 615.550.3409
E-mail:nicole@durikadvertising.com
Web Site:www.permlight.com