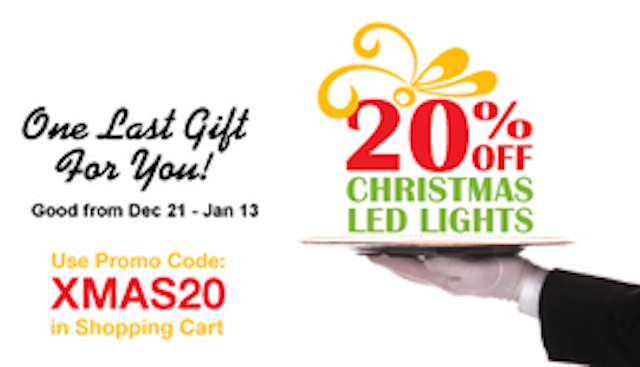 Date Announced: 20 Dec 2012
EnvironmentalLights.com, a leading source for high-quality, energy-efficient LED lighting, recently announced that they will be offering a sitewide sale of 20% on all LED Christmas light products. Orders placed between December 21, 2012 and January 13, 2013 will be eligible for the discount when the promotion code XMAS20 is used in the shopping cart.
"We had such a great success with the promotion last year that we wanted to make sure to extend it to our customers again," said Stacy Brown, Marketing Director. "Many people like to stock up on their favorite lights, or have new ideas for decorations they want to add to their Christmas displays next season."
The Christmas sale includes over 500 different types of LED lighting products on the EnvironmentalLights.com website. Some of the season's bestsellers include traditional shapes such as C6 strawberry-shaped bulbs and incandescent lookalike mini M5mm bulbs, to non-traditional shapes such as G12mm globe bulbs and 3-channel chasing lights.
For more information on the promotion details and all LED Christmas lights included in the offer, please visit http://www.environmentallights.com/holidaysale.
RoHS-Compliant & Lead Free
Most of EnvironmentalLights.com LED Christmas Lights are also RoHs-compliant, which means that lead was not used to make these products. Lead-free lights have been growing in popularity in past years with homeowners looking to be green and safe for the holidays.
RoHS stands for Restriction of Hazardous Substances. It is the standard that protects the environment and people from materials known to be harmful, including lead. EnvironmentalLights.com offers a variety of options for lead-free Christmas lights, responding to the demands of safety-conscious consumers.
EnvironmentalLights.com thoroughly tests its products to ensure quality, enhanced functionality and ease of installation. The company's in-house sales engineers provide live technical guidance and advice 7 days a week during the holiday season.
About EnvironmentalLights.com
EnvironmentalLights.com is a leading resource for sustainable, energy-efficient LED lighting products to meet the needs of business, commercial and residential clients. Their in-house sales engineers provide expert advice in the selection and design of lighting systems, as well as technical support throughout the installation process.
EnvironmentalLights.com offers a broad spectrum of LED light bulbs, strip and rope light, under cabinet light systems, Christmas lights, dimmers, controls and necessary hardware for any lighting project. For more information about Environmental Lights, visit www.EnvironmentalLights.com.
Contact
Stacy Brown Marketing Director 858-521-0233
E-mail:sbrown@environmentallights.com
Web Site:www.EnvironmentalLights.com