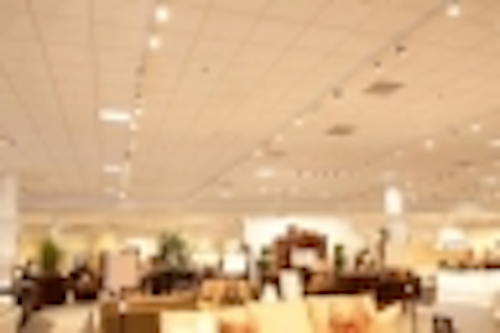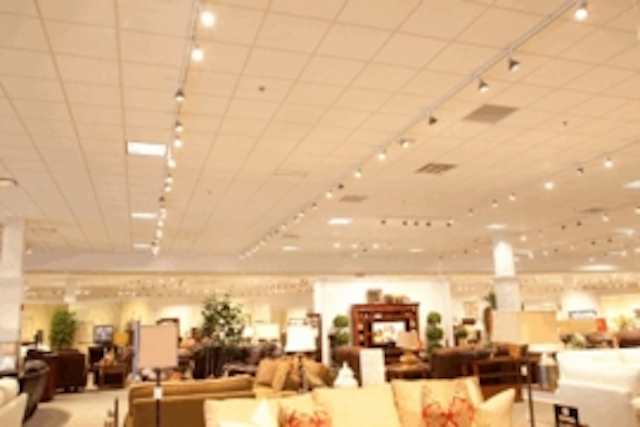 Date Announced: 05 Dec 2012
EAST CLEVELAND, Ohio — November 29, 2012 — (NYSE:GE) — When Havertys Furniture (Atlanta, Ga.) evaluated its lighting portfolio across all 120 of its retail locations, the Southeast-region retailer wanted a solution that would benefit more than just its bottom line. The technology, performance and aesthetics of GE's 14-watt Energy Smart® LED Retail PAR38 lamps inspired Havertys to use GE products to retrofit existing stores and for new construction moving forward. The switch will translate to an average $22,300 lighting cost savings per store per year (based on a $.10 kWh rate and 4,000 hours of operation), but the move means more than dollars to Havertys—it is also part of a larger environmental initiative.
"Our goal was to save money and be good stewards by reducing our energy footprint," said Glenn Boone, director of construction and design for Havertys. "The GE lamps were an important ingredient in our cost-saving equation."
With the implementation of new GE indoor LED lighting as an element of its integrated energy management systems, Havertys' Fairfax, Va., store is showing a 65 percent reduction for June 2012 compared to June 2011—attributable to a combination of new GE LED lighting and high efficiency HVAC systems.
Meanwhile, among stores retrofit with LED lighting only, Havertys reports an average 25-35 percent energy reduction—its Austin, Texas location alone seeing a more than 40 percent decrease.
To date, Havertys has purchased 10,000 LED Retail PAR38 lamps, with an additional 5,500 scheduled for delivery. All of its locations are expected to be completed by 2015. The average Havertys store houses 734 lighting fixtures traditionally fit with 90-watt halogen lamps, each costing $36 to operate annually. By comparison, each GE ecomagination 14-watt LED lamp will cost only $5.60 to power for a year. This amounts to a $22,300 savings per store per year.
In addition to indoor LED lighting, Havertys is implementing more efficient HVAC and utility control measures across many of its stores to drive costs down further while shrinking its energy footprint. To date, the company reports an overall 21 percent reduction in electricity usage and is working toward even greater reductions over the next year.
"The goal of HVTerra, Havertys' environmental stewardship program, is to achieve a 25 percent reduction across our portfolio versus our 2008 baseline by the end of 2013. Currently, we anticipate reaching this goal by the end of 2012, one year early," added Boone.
Havertys has always explored new and creative ways to lessen its environmental impact, including in 2012 when the company invested $180,000 in equipment that recycles approximately 4,000 tons of corrugated cardboard and approximately 800 tons of plastic and Styrofoam® each year, according to Havertys' real estate asset manager, Jeffrey Etherton.
Besides energy savings, the design and technology of GE's PAR38 lamp was a major selling point for Havertys. It was important that the LEDs would not be visible on the lamps, and so the LED mounting location and Visual Comfort Lens™ of GE's retail lighting product was, in their words, "a game-changer."
Havertys also found the right lumen output with GE's LED solution—the lamps showcased the wood grain and fabrics of Havertys' products without being overpowering. And where concerns remained about the quality of LED lighting, Havertys' executives, upon seeing how the lamps performed, agreed the LED lamps actually illuminated products better than old incandescent lamps.
Thanks in part to technology and the attention paid to energy efficiency, GE has become Havertys' PAR38 LED lighting provider. Havertys recognizes the advantage of working with partners to implement their environmental strategies, including GE, whose products and people create opportunities for energy savings.
"Our goal is to integrate profit, people and environmental accountability in all we do" said Rawson Haverty, Jr., senior vice president of real estate for Havertys. "Our HVTerra strategy is not only about doing the right things, but also increasing a real competitive advantage as well as new business opportunities."
Contact
David Schuellerman GE Lighting 216-266-9702
E-mail:david.schuellerman@ge.com