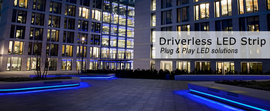 Date Announced: 20 Jun 2012
North Seattle LED Company Solid Apollo introduces a new Driverless LED Strip Lighting Solution to plug directly into any household wall socket.
Driverless LED Strip can run up to 165(ft) continuously from a common A/C outlet without a separate power transformer, known as a driver. Solid Apollo puts the power back into the hands of the consumer with the ability to light ANY project, ANYWHERE they desire. Plug-and-Play immediately out of the box, place outside or inside, on a roof or buried in the ground the possibilities are limitless!
Solid Apollo's Driverless 120V LED Strip Lights are like nothing else available on the market, it is a revolution in Dimmable Driverless LED Strip Lighting! Until now, installing low voltage LED Strip Lights required the use of transformers or drivers. If the project design called for a large number of LED strips, complex wiring and the use of many drivers was needed to secure a long lasting installation. Simply Plug one end into a common household A/C wall outlet and instantly have the ability to light up 165(ft) with just one connection, no drivers, transformers or complex wiring necessary. Driverless LED Strip runs off of any A/C wall outlet, an advantage because the LED Strip can operate virtually anywhere. Now, anyone can enjoy LED accent lighting at a low cost and with no professional assistance!
Thanks to the heavy duty silicone extrusion casing, Solid Apollo's Driverless A/C LED Strip can go anywhere and do anything. Outdoor and indoor applications are a breeze, you can plug the strip in and forget it, just go about your business without any worry of what will happen to your LED Lighting Installation if it starts raining cats and dogs or if you spill a bucket of water on the laundry room lighting. Every section of Driverless A/C LED Light Strip is made with the same high quality components professional installers and architects have come to rely on, including Solid Apollo's 3 year warranty.
"We are extremely excited about this new product!" States Solid Apollo's President, Manuel Barquin. "Finally non-professionals can install with ease, while professionals will be thrilled with the endless capabilities of this weatherproof 120V Driverless LED Strip."
Solid Apollo's Driverless 120V A/C LED Strip Lights are available in Pure White, Warm White, Blue and Red; Green, Purple, Amber and Daylight White orderable. It is great for Indoor/Outdoor applications and dimmable with almost any wall dimmer in the market. Features: Plug and Play, no drivers or special connections needed; high grade silicone encapsulation for added safety; cuttable every 19.68(in) (50 cm).
Main Uses:
Outdoor: decks, facades, gardens, patios, stairs, architectural/hospitality lighting landscape lighting, lighting extended expanses
Indoor: kitchens, restaurants, hotels, bars, cafeterias, bathrooms, under cabinet lighting kitchen, bathroom, laundry/utility outdoor
About Solid Apollo.com: Solid Apollo is a cutting edge LED lighting company which designs produces and distributes a wide range of High Quality LED Lighting Products and lighting solutions to meet today's ongoing, new generation, lighting demands. For more information visit: Solid Apollo at www.solidapollo.com or call toll free 866-592-3873. Order online or send an email to sales@solidapollo.com.
Contact
Phone: 425-582-75-33 Mike Donley
E-mail:sales@soldiapollo.com
Web Site:www.solidapollo.com