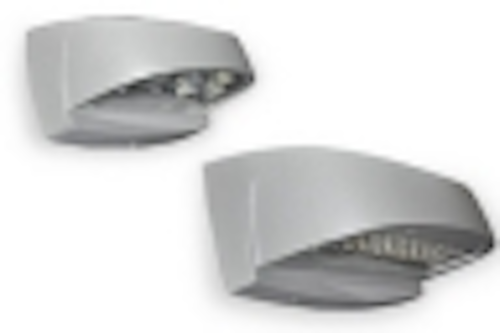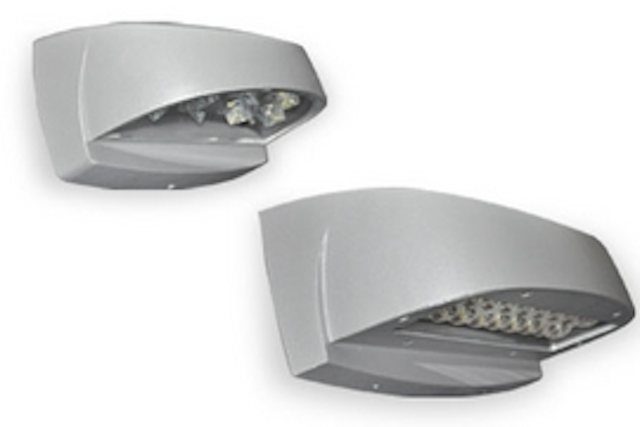 Date Announced: 21 Jun 2012
San Marcos, TX – The new Quality LED Wall Mounted family of Luminaires (QLW) from Philips Wide-Lite combines two high performance wall sconces with energy saving LED technology in a classic, geometric design. The medium QLW-16G1 Series is based on the Philips LEDgine platform, which features best-of-breed Philips technologies such as industry leading LUXEON LEDs and Xitanium drivers.
Available in two different wall-mount fixtures with similar aesthetic qualities at different elevated heights, the new QLW series delivers on the energy savings associated with LED. With only 13 total input watts delivering on 619 lumens, the QLW-7G1 is an energy efficient solution for mounting heights of 6-10 feet – making it ideally-suited for use over doorways, entranceways or other applications where its' compact size may be beneficial. The QLW-16 is best for mounting heights of 10-15 feet, providing a comparable replacement for fixtures utilizing 150W HID technology. QLW-16G1 offers a 60,000 hour rated system life at 40°C.
The QLW-16G1 series benefits from LEDGINE's innovative optics, which provide superior uniformity, control glare and manage spill light. QLW-16G1 is available with Types II, III, IV as well as a Wall Throw distribution for additional wall washing capability. The LEDgine platform also offers the flexibility of a modular approach, which allows for different LED configurations, enabling QLW-16G1 to be tailored to a customer's unique needs such as application and light output, giving lighting designers exceptional flexibility. This helps to ensure that light levels and light quality meet the application requirements, while protecting investment in the lighting system by allowing it to be expanded or adjusted as the lighting requirements for a particular environment evolve.
The QLW series offers simple to advanced control options for added energy savings. The small QLW-7G1 unit features a photocontrol sensor for automatic dusk-to-dawn lighting. For increased energy savings, the medium QLW-16 can be combined with Philips Dynadimmer, a stand-alone programmable dimming system to further reduce energy consumption during off-peak periods. Additional product features include a 0-10V interface for full range dimming controls.
QLW-16G1 is DLC Certified. Stocking program available.
About Royal Philips Electronics
Royal Philips Electronics of the Netherlands (NYSE: PHG, AEX: PHI) is a diversified health and well-being company, focused on improving people's lives through timely innovations. As a world leader in healthcare, lifestyle and lighting, Philips integrates technologies and design into people-centric solutions, based on fundamental customer insights and the brand promise of "sense and simplicity." Headquartered in the Netherlands, Philips employs approximately 122,000 employees with sales and services in more than 100 countries worldwide. With sales of EUR 22.6 billion in 2011, the company is a market leader in cardiac care, acute care and home healthcare, energy efficient lighting solutions and new lighting applications, as well as lifestyle products for personal well-being and pleasure with strong leadership positions in male shaving and grooming, portable entertainment and oral healthcare. News from Philips is located at www.philips.com/newscenter.
Contact
Silvie Casanova Philips Lighting North America Tel: 978 – 659-7467
E-mail:Silvie.casanova@philips.com
Web Site:www.philips.com/newscenter