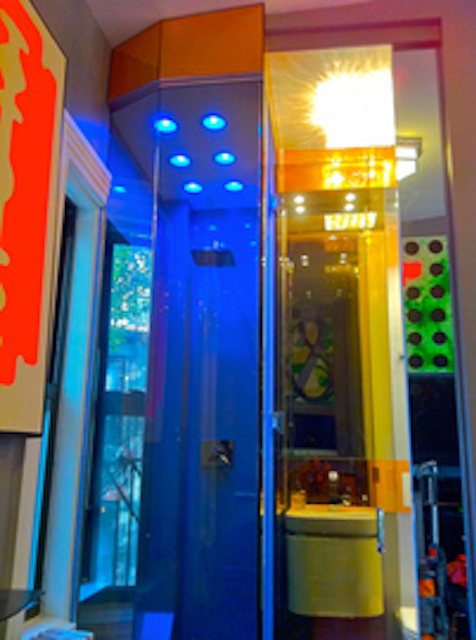 Date Announced: 05 Sep 2012
Vibrant Bathroom Transformation
LED technology is one of today's most energy-efficient and rapidly developing technologies - and now it's taking over your bathroom. Jessica Goudreau of East Side Interiors recently remodeled a West Village condo with an eye-catching and vibrant bathroom transformation.
Along with contractor Graham Cowie, Goudreau has been providing exceptional design services throughout New York for multi-unit residential clients, as well as commercial properties and private owners. With a degree from Pratt Institute in Interior Design, and over a decade of high-end design experience she has completed modern and eclectic designs all around the world.
"I prefer to work with a lot of color and light, as you can see in most of my finished work," explains Jessica Goudreau of East Side Interiors. "I really like vibrant designs that make a statement, and I enjoy working with metallic & bright colors to really bring a room to life."
Multi-Color PAR16 LED Light Bulbs
Jessica's vision for the bathroom was inspired by multi-colored PAR16 LED light bulbs from EnvironmentalLights.com. At any time the owners can change out the recessed lights to create a fiery red shower stall or a cool blue hideout. These screw-in Halco ProLED bulbs are among the best available, providing high brightness and great color for only 3.6 watts.
ProLED PAR16 bulbs feature quality high power LED with superior thermal construction for long life and energy efficient illumination. These LED bulbs provide 16 times the life of traditional Halogen and are 87% more efficient than a 45W Halogen PAR16.
"Having lighting that is long-lasting is important to me, and as you know I like color!" said Goudreau. "Lighting is always on my mind from the beginning of a design, and I love giving my clients the flexibility to change the lighting at any time. I think for some designers lighting is an afterthought."
 
Custom Touches
In addition to the colored LED bulbs in the recessed fixtures in the shower, Goudreau's "disco" bathroom included custom built-in mirrored cabinets with small under cabinet lighting, a European-style floating toilet and sink and even a chandelier over the sink!
See more about this project at: http://www.environmentallights.com/library/designer_jessica_goudreau_transforms_an_outdated_west_village_bathroom_with_a_oneofakind_disco_shower/
Contact
Stacy Brown Marketing Director EnvironmentalLights.com (858) 521-0233
E-mail:sbrown@environmentallights.com
Web Site:www.EnvironmentalLights.com