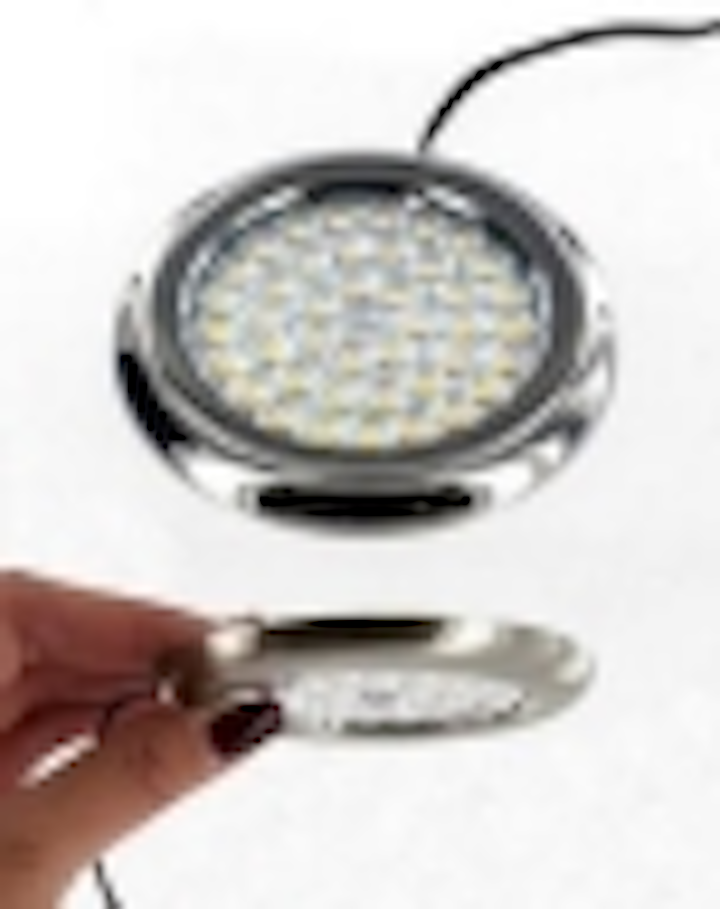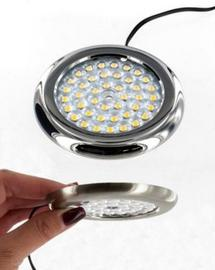 Date Announced: 21 Feb 2014
Bogota, NJ -- Uncontested as the thinnest and easiest to install LED Puck Light on the market, Outwater's [Outwater Plastics Industries, Inc. + Architectural Products by Outwater, LLC] Venus Ultra Bright LED Puck Light readily mounts to any surface with a single screw, which is merely inserted through a small, inconspicuous, recessed hole in the middle of the fixture, thus negating the need for pre-drilling.
Manufactured with constant voltage technology so as to minimize power losses, Outwater's Venus Ultra Bright LED Puck Light's ultra low profile 24 volt, 42 LED chip puck light measures a scant .285-in. thick with a 3-1/2-in. dia., and is offered in pure white (color temperature: 4,500k; beam spread: 90°; lumens: 320; color rendering index: 75) and warm white (color temperature: 3,200k; beam spread: 90°; lumens: 300; color rendering index: 75) with a beautifully constructed polished or brushed chrome all metal trim ring for added durability.
Able to outshine a 20 watt halogen bulb with a "shower of light," Outwater's Venus Ultra Bright LED Puck Light requires only 3 watts per unit, with an approximate 50,000 hour bulb life.
Furthermore, not only can several Venus Ultra Bright LED Puck Lights be powered off of one transformer, no heat emissions or generated UV radiation render the lights safe and suited for use in a variety of tight residential and commercial applications.
Outwater's Venus Ultra Bright LED Puck Light is available with a variety of complementary options to further customize any installation including different UL listed power supplies, a junction box to connect multiple lights to a single power supply, an extension cable and a dimmer.
For further product information, please visit the enclosed link:
Link #1: Venus Ultra Bright LED Puck Light
http://www.outwatercatalogs.com/lg_display.cfm/catalog/Master_Catalog_Vol_42/page/696
From the vendor of a single product in August 1972, Outwater, with sales and distribution facilities in New Jersey and Arizona, is recognized today as a well established international manufacturer and stocking distributor of more than 65,000 standard and innovative component products required by woodworkers, cabinet and furniture manufacturers, builders, remodelers, designers, architects, point-of-purchase and display fixturing manufacturers, OEM's, as well as a diversified range of other commercial and retail end users.
Major Product Categories include Plastic & Aluminum Extrusions; Lighting and Lighting Accessories; Furniture, Cabinet & Store Fixture Components; Knobs & Pulls; Casters; Fasteners; Laminates; The FOGA Exhibit & Display Fastening System; The Klem Connector; Literature Displays; Slatwall; Sign Holders; P.O.P Components; Display Motors & Turntables; Pedestals; Injection Molded Parts; Brass Tubing & Fittings; Surfacing Materials; Interior & Exterior Polymer & Wood Architectural Mouldings & Millwork; ORAC DECOR and DEM Architectural Mouldings & Millwork; Columns & Capitals; Balustrading; Wrought Iron Components; Decorative Stamped Steel & Polymer Ceiling Panels; Wainscoting; Wall Coverings; Fireplace Surrounds; Plastic "Glass" Block; Period & Contemporary Hardware; Kitchen & Bath Accessories; Kitchen & Bath Cabinetry and Vanities... and so much more!
OUTWATER PLASTICS INDUSTRIES, INC. +
ARCHITECTURAL PRODUCTS BY OUTWATER, LLC
24 River Road, P.O. Box 500
Bogota, NJ 07603
Contact
Joey Shimm, Director of Marketing - Outwater Plastics Industries, Inc. + Architectural Products by Outwater, LLC +1-201-498-8750
E-mail:info@outwaterplastics.com
Web Site:www.outwater.com