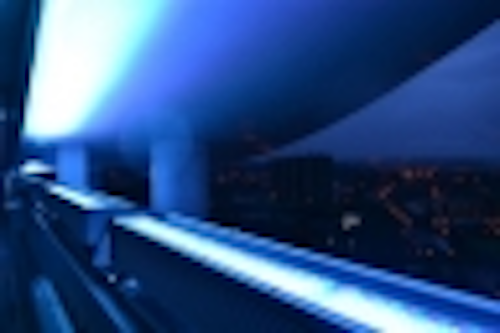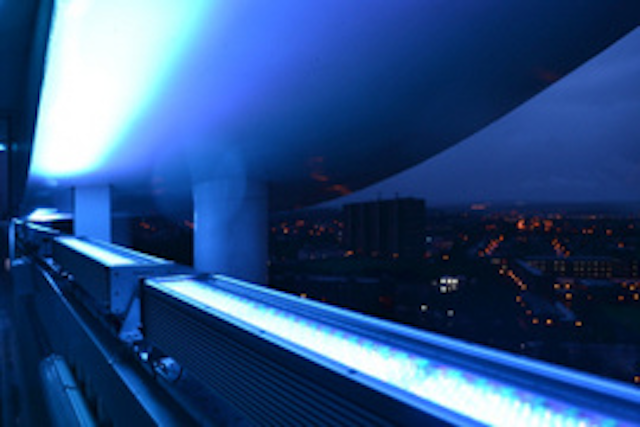 Date Announced: 04 Feb 2014
We at AFM Electrical LTD had the pleasure of Installing LED feature lighting to the oldest tower blocks in Glasgow for ISG as part of their external refurbishment works which have just been completed.
The structural features on these rooftops are pretty unique and with them now illuminated these prominent and historic tower blocks are a prominent and modern development.
For this installation we installed the Neo-neon RGB LED wall washers which are adequately IP rated for the Installation location and provided the wash of light we and the client were looking to achieve.
Each arched rooftop structure had 5No Neo-neon wall washers Installed underneath providing and equal spread of light across the full LED system with a total number off 55No wall washers Installed.
The 55No wall washers were installed over three different tower blocks but the client requested they had to be controlled from one central location. To achieve this we installed the Nicolaudie - Sunlite Touch-Sensitive Intelligent Control Keypad at the agreed central location, from the controller we sent the DMX signal through a Elation wireless sender unit with an Elation wireless receiver unit situated on each roof providing DMX signals to all 55No wall washers.
Using the Nicolaudie software we programmed the lights to meet with the clients requirements slowly washing through requested colours which provide a great feature and compliments a great job done on the refurbishment of these blocks.
In addition to the detail programmed installed we are set to sit down with the client and programme in colour schemes to meet with the Glasgow 2014 commonwealth games so the blocks are illuminated with same colours used in the commonwealth logo for the duration of this great Glasgow event.
Please contact andrew@afmelectrical.co.uk if you require any further info or pictures.
Contact
AFM Electrical LTD
E-mail:andrew@afmelectrical.co.uk
Web Site:www.afmelectrical.co.uk