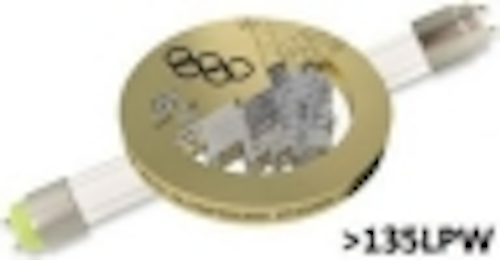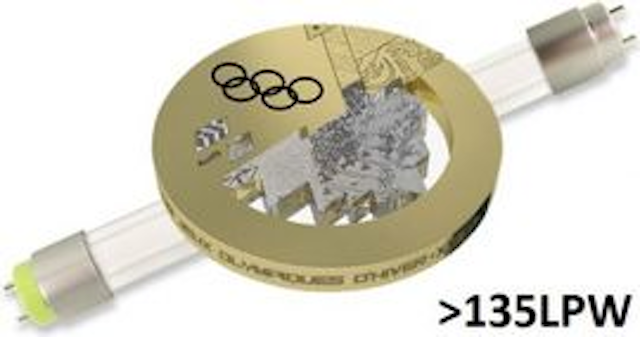 Date Announced: 17 Feb 2014
RemPhos achieves the most efficient commercially available, DLC QPL Listed, LED T8 Tube in the world.
DANVERS, MA. -- RemPhos Technologies LLC, a manufacturer of LED products targeted for the energy market, is pleased to announce that as of February 7th 2014, the company's 4ft LED T8 tube is the highest efficiency product in its DesignLights Consortium (DLC) category at greater than 135 lumens per watt.
"In order to achieve this ground breaking efficiency, RemPhos has spent the last 5 years perfecting its innovative optical design and highly efficient drivers," said David Gershaw, President of RemPhos. "In achieving this new performance benchmark, RemPhos tops more than 430 other manufacturers on the DLC list. We are now able to offer to our customers exactly what they desire; sufficient light levels, at the lowest possible wattage".
RemPhos has a history of designing and manufacturing cost-effective LED T8 tubes for large OEM customers as well as its own brand since 2009. They have produced and sold millions of LED T8 tubes to-date. RemPhos has recorded extensive reliability data, which shows that the tubes not only perform well, they are built to last.
RemPhos has worked closely with certification agencies such as UL to ensure that its tubes can be used by fixture assembler's as well as being used for in-field retrofits.
About DesignLights Consortium
The DesignLights Consortium (DLC) is a project of Northeast Energy Efficiency Partnerships (NEEP), a regional non-profit founded in 1996 whose mission is to serve the Northeast and Mid-Atlantic to accelerate energy efficiency in the building sector through public policy, program strategies and education. The DLC promotes quality, performance and energy efficient commercial sector lighting solutions through collaboration among its federal, regional, state, utility, and energy efficiency program members; luminaire manufacturers; lighting designers and other industry stakeholders throughout the U.S. and Canada.
About RemPhos Technologies LLC
RemPhos Technologies LLC was founded in Danvers, MA in 2008. RemPhos designs, tests and manufactures LED lighting products for business partners such as OSRAM Sylvania, Siemens and a variety of Lighting Solutions Providers as well as selling under its own brand. Today RemPhos focuses on delivering innovative products and services to the energy services industry. The company has patented and successfully commercialized many products.
Contact
RemPhos +1-877-99-REMPHOS or +1-877-997-3674
E-mail:info@remphos.com
Web Site:www.remphos.com