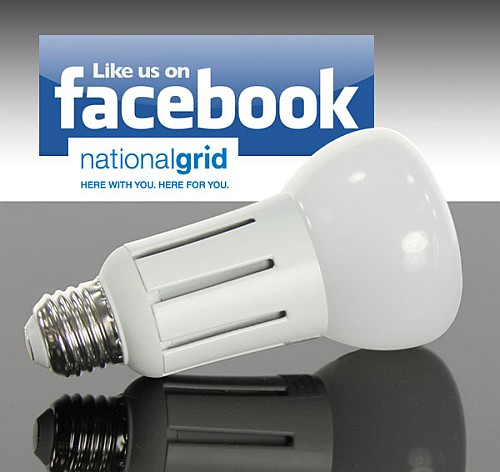 West Caldwell, New Jersey -- Consumers learned about sustainability and energy-saving lighting alternatives to phased-out, less-efficient incandescent bulbs during a promotion implemented by National Grid in conjunction with MaxLite®. The promotion, hosted on the Rhode Island (RI) Facebook page of National Grid, encourages its customers to use LED lamps as replacements to traditional 40- and 60-watt incandescents that are being phased-out as part of the Energy Independence and Security Act (EISA). Passed by the United States Congress in 2007, EISA is an energy policy intended to make better use of our resources and help the United States become energy independent. Under the new law, screw-based light bulbs will use fewer watts for a similar light output. To promote the use of more efficient bulbs nationwide, EISA was implemented over a three-year span, beginning with 100-watt bulbs in 2012, 75-watt bulbs in 2013, and 40- to 60-watt bulbs this year. Common household light bulbs that traditionally use between 40 and 100 watts will use at least 27 percent less energy by 2014.
"We were excited to work with National Grid on this LED sweepstakes," said Joe Pater, utility solutions program manager for MaxLite. "The promotion enlightened consumers about the new law and educated them on how LEDs can improve their lives by reducing energy costs and maintenance while increasing light quality and protecting the environment."
The promotion offered a sweepstakes where Facebook fans were eligible to win MaxLite's 10-watt Omnidirectional LED A19 Lamp, which offers 800 lumens of soft, warm 3000K uniform white light at a 300-degree beam angle from the socket base and above in all directions. By replacing just one 60-watt incandescent lamp, consumers can save 1,250 kilowatt hours (kWh) of energy or $165.66 (based on an energy rate of $.12 kWh), with an 86 percent savings in energy throughout the bulb's 25,000-hour life (assuming the bulb is on for three hours a day).
"Educating our customers about energy-efficient lighting is important to us, especially with all the recent market changes," said Michelle Eburn, residential lighting and consumer products senior marketing analyst at National Grid. "Offering customers a chance to win a free ENERGY STAR qualified LED bulb from MaxLite will help them gain familiarity with new energy-efficient lighting technologies while saving energy in the process."
The lucky winners of MaxLite's Omnidirectional LED A19 light bulb are from Ashaway, Coventry, Cumberland, East Greenwich, East Providence, Johnston, Wakefield, West Warwick, and Westerly.
The promotion was designed to drive people to the National Grid RI Facebook page to attract new fans and educate visitors about the new lighting requirements and the types of LED bulbs that can replace less-efficient incandescent light bulbs. The contest was held from February 3-17, 2014.
To learn more about the promotion, please visit www.facebook.com/NationalGridRI.
About National Grid
National Grid (LSE: NG; NYSE: NGG) is an electricity and gas company that connects consumers to energy sources through its networks. The company is at the heart of one of the greatest challenges facing our society - to create new, sustainable energy solutions for the future and develop an energy system that underpins economic prosperity in the 21st century. National Grid holds a vital position at the center of the energy system and it 'joins everything up.'
In the northeast US, we connect nearly seven million gas and electric customers to vital energy sources, essential for our modern lifestyles.
National Grid delivers electricity to approximately 3.3 million customers in Massachusetts, New York and Rhode Island. It is the largest distributor of natural gas in the northeastern U.S., serving approximately 3.4 million customers in New York, Massachusetts, and Rhode Island.
For more information please visit our website: www.nationalgridus.com.
About MaxLite

MaxLite has been committed to providing energy-efficient lighting products for the last 20-plus years, and was one of the first movers into LED technology in the industry. An ENERGY STAR® Partner of the Year, MaxLite established the MaxLED® brand, an extensive line of indoor and outdoor lighting fixtures and lamps using the latest state-of-the-art LED technology. Through MaxLite's innovative research and development capabilities in its California office and product assembly center in New Jersey, MaxLite continues to be at the forefront of energy-efficient technologies.

Contact:
MaxLite
+1-800-555-5629
E-mail:
Web site: