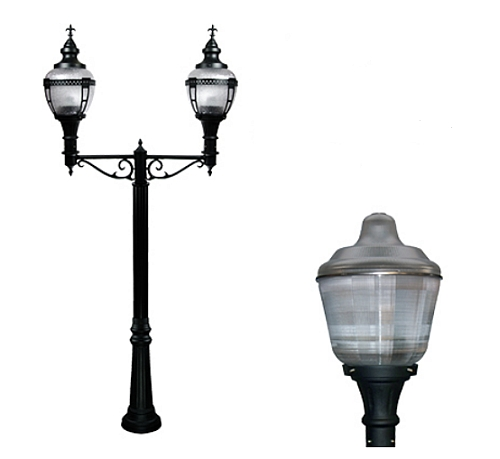 Available with Either LED or HID; New Decorative Pole Designs Are Ideal for Street, Pathway, and Area Lighting

Mentor, Ohio -- EYE Lighting International, a leading manufacturer of lamps, luminaires, controls and related lighting systems, has announced a new family of Refractive Globe Post Tops which are designed for both LED and HID light sources. The stylish Refractive Globe Post Tops are ideal for retrofitting existing systems to reduce energy and maintenance costs, or for new construction with new EYE Decorative Poles.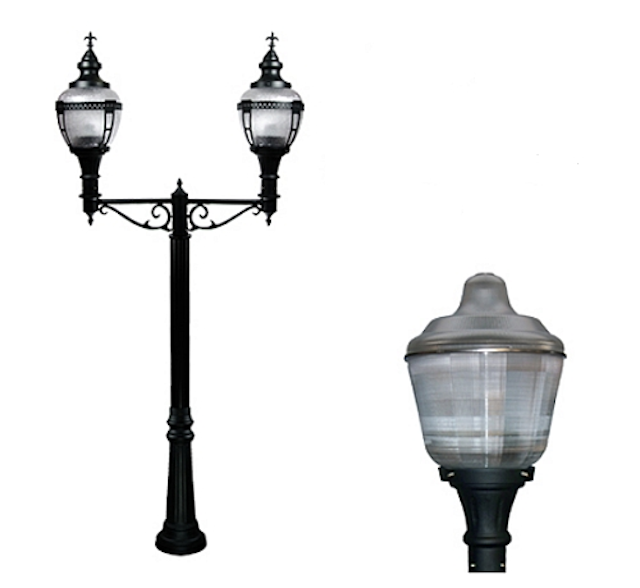 EYE Lighting refractive globe post-tops are designed for LED and HID light sources

Customers who choose LEDs as a light source will find the EYE LEDioc™ lamp delivers superior color rendering, long life, and matched for perfect compatibility with the EYE driver systems. The EYE LEDioc lamp is a unique, patented design featuring a screw-in base for mogul or standard base sockets. It is available in 37W and 74W models, and delivers up to 4700 and 8100 initial lumens, respectively. Customers who prefer 70W to 250W HID can specify EYE metal halide, ceramic metal halide, or high pressure sodium lamps.

New EYE Refractive Globe Post Tops are available in six different designs, and offer either Type III or Type V light distribution. The Post Top is easily accessible for maintenance, and the acrylic globes will not yellow. New EYE Decorative Poles are designed with a sturdy 4-bolt anchor base which is welded to the pole shaft.

For more information on new EYE Lighting Refractive Globe Post Tops and Poles, download a copy of brochure #EQS-N-52-84-00084 at www.eyelighting.com.

About EYE Lighting International
EYE Lighting International is a leading provider of lighting products with more than 22 years of innovation in lighting technology. EYE Lighting manufactures technically superior products featuring solid-state LED luminaires and High Intensity Discharge (HID) lamps. The products are specified by lighting designers, utilities, municipalities, and energy service companies, and are used in commercial and industrial applications and for sports and infrastructure lighting. EYE Lighting's products provide superior quality, reliability, excellent color rendering, and long-life. Every day satisfied customers use EYE-brand products to conserve energy use, reduce maintenance, and meet their sustainability goals.

Contact:

Rob Freitag, VP, Marketing - EYE Lighting
+1-440-358-4708
E-mail:

Web site:

Submit new products, case studies/projects, and other press releases at http://www.ledsmagazine.com/content/leds/en/addcontent.html and http://www.ledsmagazine.com/content/leds/en/iif/add.html.