Coopersburg, PA -- Lutron Electronics, the leader in energy-saving, wireless lighting and shade control, announced that its powerful Quantum® Total Light Management™ System will now offer Quantum Vue building management software, accessible from your smart phone, tablet, or desktop computer.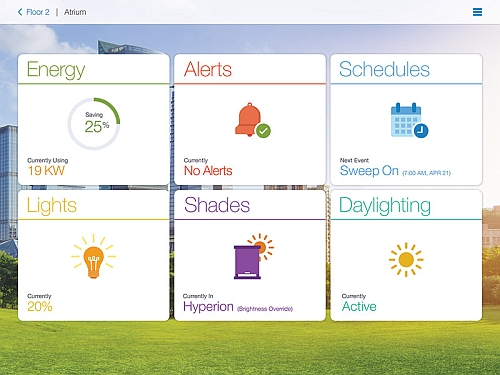 Lutron's Quantum Vue web-based software provides lighting control from any mobile device

Quantum Vue helps streamline the building management process by enabling facilities teams to access their building lighting control anytime from anywhere.

The intuitive Quantum Vue software helps you manage lighting throughout a facility by monitoring and reporting all of the lighting energy used in a space. Building owners and facility managers can easily optimize lighting energy performance while reducing maintenance and operating costs. Features of the Quantum Vue software include:
- Simple, intuitive software interface
- Manage, monitor and report on all the energy usage in a building
- Reprogram lighting scenes and shade presets from a mobile device, smartphone and computer
- Ties all building lighting and shade controls together under one system interface

"Quantum Vue can now provide immediate access to important system information whenever you need it," said Eric Lind, Vice President, Global Specifications at Lutron. "Facility managers can now interface with their building lighting control system from any computer, tablet, or smartphone -- and run reports, export data to other applications, and monitor the system performance with this revolutionary new software."

Quantum Total Light Management systems have always offered top-in-class hardware. The new software now gives specifiers, facility managers, or property managers top-in-class software to provide a complete solution for creating the perfect lighting environment in commercial office buildings, hospitals, universities, hotels, convention centers, museums and more. Current Quantum users can schedule an appointment with a Lutron Services representative at 1-800-523-9466 to upgrade their existing systems.

The Quantum Vue software application is debuting at Lightfair International and can be previewed at the tradeshow June 1-5 in Las Vegas, Nev. It will be available starting in September 2014.

About Lutron Electronics
Founded in 1961, Lutron Electronics is headquartered in Coopersburg, Pennsylvania, in the heart of the Lehigh Valley. From dimmers for the home, to lighting management systems for entire buildings, the company offers more than 17,000 energy-saving products, sold in more than 100 countries around the world. In the US alone, Lutron products save an estimated 10 billion kWh of electricity, or approximately $1 billion in utility costs per year. The company's early inventions -- including the first solid-state dimmer invented by Lutron's founder, Joel Spira -- are now at the Smithsonian's National Museum of American History in Washington, DC.

Contact:

Melissa Andresko, Communications Director-Public Relations - Lutron Electronics Co., Inc.
+1-610-282-6440

E-mail:

Web site:

www.lutron.com

Submit new products, case studies/projects, and other press releases at http://www.ledsmagazine.com/content/leds/en/addcontent.html and http://www.ledsmagazine.com/content/leds/en/iif/add.html.