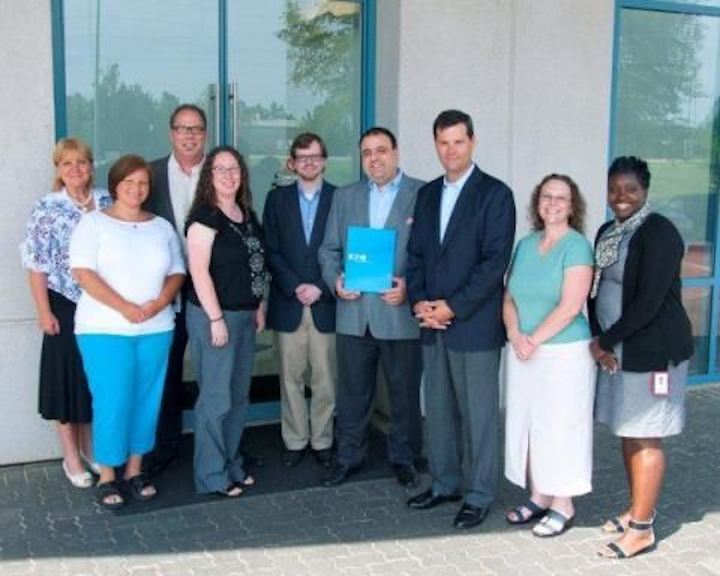 PEACHTREE CITY, Ga. -- Power management company Eaton has announced its support and contribution of $15,000 to Hillside, Inc., a private, non-profit, Atlanta-based organization providing treatment and education to severely emotionally disturbed children and their families. The donation comes from Eaton's Cooper Lighting Division and the Eaton Charitable Fund, which will be used to build a new sustainable, 5,800-square-foot EarthCraft-certified dining hall and kitchen, scheduled to open this month.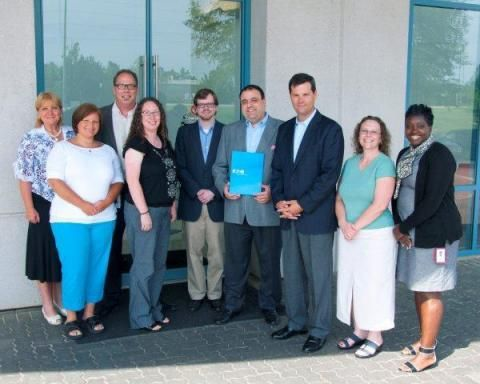 Eaton supports non-profit Hillside, Inc. with $15,000 donation for sustainable dining facilities

Photo: Development Officer Evan Pearson and Development Associate Chase Ingraham, Hillside, Inc. (center), accept a $15,000 contribution from Mark Eubanks, president, Eaton's Cooper Lighting Division (third from the right) along with Dan Hilinski, vice president, Human Resources (third from left) and Eaton's Community Affairs team members.

"The Eaton Charitable Fund actively supports programs that improve the quality of life in communities where the company operates," said Mark Eubank, president, Cooper Lighting Division. "We are proud of Eaton's civic involvement at Hillside and in Georgia, as well as all of the global communities where we work. Supporting Hillside and assisting children in need continue to be a priority for our employees."

Eaton's local Peachtree City employees will also volunteer with the organization, helping with landscaping and improvement projects on the facility campus. The new kitchen and dining facility will provide a much needed common area for greater interaction with the patients and more opportunities for volunteering. Additionally, the new space will satisfy operational efficiencies and sustainable goals.

Hillside strives to offer the best care available to mentally ill and or severely emotionally disturbed children and adolescents ages seven to 17. The organization is a state certified Psychiatric Residential Treatment Facility (PRTF) and has expanded programs to offer Therapeutic Foster Care and Community Intervention services to children and families in need in its surrounding communities. For more information, visit www.hside.org.

Eaton's Cooper Lighting Division delivers a range of innovative and reliable indoor and outdoor lighting solutions, as well as controls products specifically designed to maximize performance, energy efficiency and cost savings. The Lighting business serves customers in the commercial, industrial, retail, institutional, residential, utility and other markets.

Eaton's Electrical Sector is a global leader with expertise in power distribution and circuit protection; backup power protection; control and automation; lighting and security; structural solutions and wiring devices; solutions for harsh and hazardous environments; and engineering services. Eaton is positioned through its global solutions to answer today's most critical electrical power management challenges.

Eaton is a power management company with 2013 sales of $22.0 billion. Eaton provides energy-efficient solutions that help our customers effectively manage electrical, hydraulic and mechanical power more efficiently, safely and sustainably. Eaton has approximately 103,000 employees and sells products to customers in more than 175 countries. For more information, visit www.eaton.com.
Contact:

Karin Martin - Eaton's Cooper Lighting business
+1-630-513-8625
Web site:

www.eaton.com

Submit new products, case studies/projects, and other press releases at http://www.ledsmagazine.com/content/leds/en/addcontent.html and http://www.ledsmagazine.com/content/leds/en/iif/add.html.