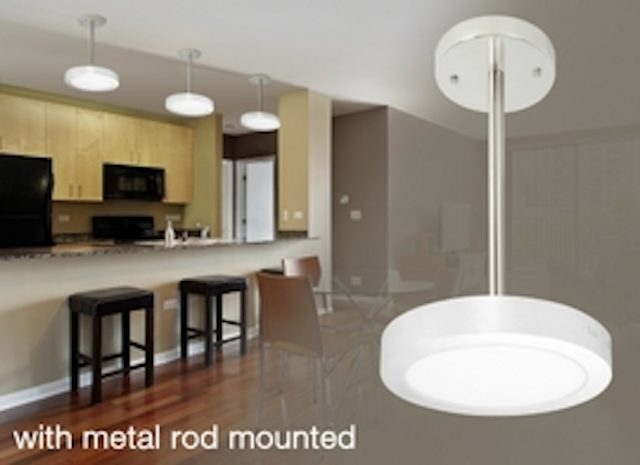 Date Announced: 07 Jan 2014
New Aluminum Die-Cast Indoor Lighting Models Can Be Installed on Virtually Any Surface
Taipei, Taiwan - GlacialLight, a division of the Taiwanese technology manufacturer GlacialTech Inc., has added three 8" AC and DC input surface mounted down light series to its interior lighting range: an AC input non-dimmable series - GL-DL08-SM, an AC input 3-in-1 (1-10V / PWM / resistor) dimmable series - GL-DL08DA-SM, and a DC input non-dimmable series - GL-DL08LD-SM.
Featuring minimum color rendering indexes (CRIs) of 80, these highly practical surface mounted down light series are ideal for indoor spaces where there is not sufficient room to install recessed lighting. These down lights are one piece, can be mounted on nearly any surface - including concrete ceilings - and require no additional holes to be drilled, making them versatile and easy to install. And since they are made of sleek die-cast aluminum, they are also lightweight and durable.
Each series is available in three color temperatures to suit their application's requirements: the WW (warm white) version with a color temperature of 3000K, the NW (neutral white) version with a color temperature of 4000K, and the CW (cool white) version with a color temperature of 5700K.
An optional metal rod mount is also available, which turns these down lights into pendant lights. Pendant lights provide a warm ambient glow, and are often used in multiples and hung in a straight line over countertops.
GlacialLight will be releasing 4", 6" and 10" models of each series in the near future.
With environmental protection in mind, GlacialLight has designed the GL-DL08-SM, GL-DL08DA-SM, and GL-DL08LD-SM series to be RoHS compliant. In addition, these down lights do not contain hazardous chemicals such as mercury, and do not emit harmful UV or IR rays, making them more eco-friendly than lighting fixtures based on older technologies.
Read more about this new product at GlacialLight's website:
http://www.glaciallight.com/products/downlight-surfacemount.htm
About GlacialLight
GlacialLight, the lighting division of GlacialTech, manufactures LED lighting solutions for indoor/outdoor applications and both residential and commercial uses. As well as having a wide range of finished LED lighting products, GlacialLight also offers its clients the option of customizing products for specific needs.
Contact
GlacialLight - Erin Huang +886-2-2244-1227 ext600
E-mail:sales@GlacialLight.com
Web Site:www.glaciallight.com/GL_index.htm