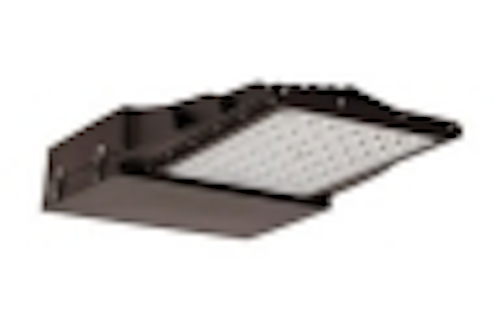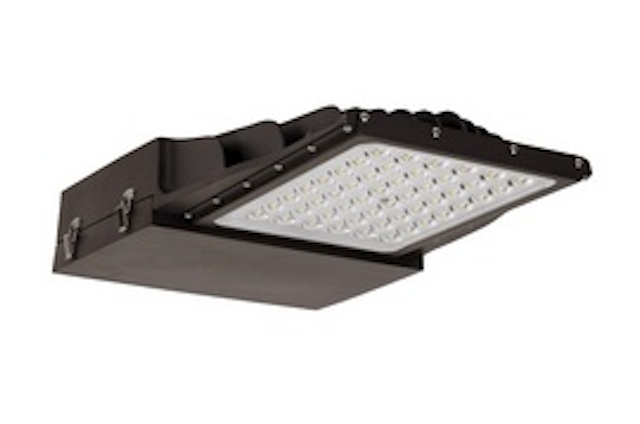 Date Announced: 13 Jan 2014
High Efficacy Luminaires for Wide Range of Security, Street/Area Lighting & Industrial Applications
Focused on delivering energy-efficient LED luminaires for outdoor applications, North American lighting leader OSRAM SYLVANIA has expanded its portfolio with the ProPoint® Small Floodlight and PermaLED™ Area Light. Designed to replace traditional lighting technologies, these highly efficient outdoor luminaires deliver significant energy and maintenance savings for a variety of exterior illumination applications.
Assembled in the United States, these low profile luminaires feature unique designs that deliver improved lighting uniformity and provide illumination levels equal to or greater than traditional lighting options. Additionally, the luminaires offer high efficacy and longer life, are DesignLights Consortium® (DLC) Qualified for utility incentives and are covered by a 5-year standard luminaire warranty.
"Our outdoor luminaires deliver efficient, high-quality light that helps improve visibility and ensure pedestrian safety," said Jim Conley, outdoor luminaire portfolio manager, OSRAM SYLVANIA. "By offering lower maintenance costs and superior energy savings, the ProPoint Small Floodlight and PermaLED Area Light will change the way facility managers and public works departments light their outdoor spaces."
ProPoint Small Floodlight
An ideal replacement for traditional halogen, fluorescent or HID luminaires for existing or new installations, the OSRAM ProPoint Small Floodlight (SFL) is well-suited for illuminating building facades, security, signage, and landscapes. The SFL series is offered in 15 and 30-watt versions with a luminaire efficacy of up to 90 lumens per watt (LPW), delivering optimum light engine performance for extended service and a life rating of 70,000 hours (L70). These environmentally preferable LED luminaires use up to 67 percent less energy than traditional HID lighting. The fixture is IP66 rated for outdoor environmental conditions, making it safe to remove dirt and grime that impedes illumination and jeopardizes pedestrian safety with a simple hose-down. The Small Floodlight is RoHS Compliant and UL Listed in the United States and Canada.
PermaLED Area Light
Ideal for a variety of exterior lighting applications including parking lots, street lighting and pathway lighting, the PermaLED Area Light is an environmentally preferable LED alternative to traditional HID luminaires up to 450-watt, offering energy savings of up to 70 percent. Offered in 90, 140 and 200-watt versions, the luminaires are available with two integrated control options of either a standard photosensor or a dual technology motion and photocontrol sensor, and provide 10kV surge protection for effective suppression of most transient AC line surges. The PermaLED Area Light has a luminaire efficacy of 111 LPW and a life rating of 100,000 hours (L86), and is available in 4000K and 5000K color temperatures. Additionally, the LED luminaire is IP66 Rated, UL1310, FCC Part 15 for Class A conducted and radiated emissions, RoHS Compliant, and ETL Listed to UL 1598 for applications in wet locations. The PermaLED Area Light is also tested in accordance with IEEE C62.41-2002 Category C low (10kV, 5kV).
For more information on these outdoor LED luminaires and other lighting technologies from OSRAM SYLVANIA, please visit www.sylvania.com.
About OSRAM SYLVANIA
OSRAM SYLVANIA is a leader in lighting solutions and services, specializing in innovative design and energy saving technology. The company sells products for homes, businesses and vehicles primarily under the SYLVANIA brand name, and also under the OSRAM brand. Headquartered in Danvers, Mass., OSRAM SYLVANIA is the North American operation of OSRAM GmbH. For more information, visit www.sylvania.com or follow us on Facebook and Twitter. For more information, visit www.sylvania.com or follow us on Facebook and Twitter.
OSRAM is a registered trademark of OSRAM GmbH.
PermaLED is a trademark of OSRAM SYLVANIA Inc.
ProPoint and SYLVANIA are registered trademarks of OSRAM SYLVANIA Inc.
All other trademarks are those of their respective owners.
Contact
Glen Gracia, OSRAM SYLVANIA +1-978-750-2763
E-mail:glen.gracia@sylvania.com
Web Site:www.sylvania.com