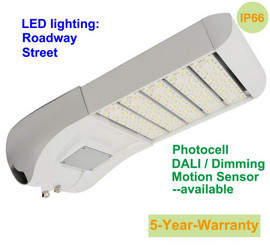 Date Announced: 07 Jan 2014
Design, Structure and Thermal Management
-- Modular design, replaceable and upgradable LED light modules.
-- Easy assembly, easy installation, easy repair or maintenance.
-- Unique heat sink structure performs better heat dissipation and dust resistance.
-- Photocell, DALI, Microwave Motion Sensor, Dimming functions could be available.
-- Various housing color for option: Gray, White, Black, etc.
Electrical and Photometrics
-- Full range input voltage: 120-277Vac (Options: 12-24Vdc, 220-240Vac, etc).
-- Comply with safety and lighting standards in luminance, uniformity, glare control, etc.
-- Popular Type II light distribution curve (Options: Type III or other).
-- IES files are available for Dialux simulations.
Safety and Reliability
-- Top brand LED light source: Philips Lumileds.
-- Best LED power supply: Philips Advance driver (UL, CSA, CE, ROHS compliant).
-- 5 years warranty, lifetime service.
Light Distribution: Type I, Type II, Type III, Type IV, Type V.
Additional Info
LED Light Source: Philips Lumileds
LED Power Supply: Philips Advance
Luminous Efficiency: ?98Lm/W
Power Factor: ?0.95
Operation Temp: -40? to 50?
Color Temp: 5000K (Options: 6000K, 4000K, 3000K, etc)
Color Rendering Index: Ra>70 (Options: Ra>75, Ra>80, etc)
Application: LED Street Lighting, Roadway Lighting, Park Lighting, Highway Lighting etc
Contact
Jack - Manager, Global Business Dept. Shenzhen Hitec Lighting Co., Ltd Mob: +86-153 0755 7255 T/F : +86-755 2314 8006
E-mail:info@hti-global.com
Web Site:www.hti-global.com