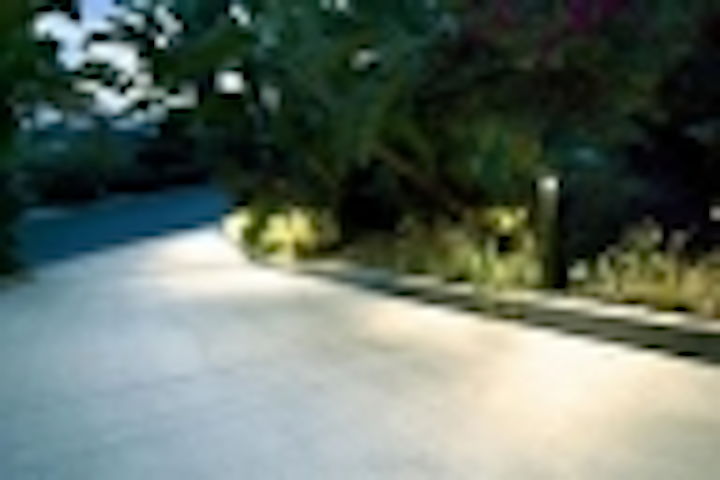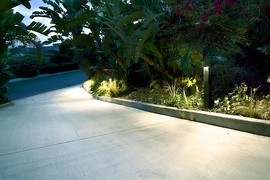 Date Announced: 21 Mar 2014
New Product Introduction: aire7 | X7 -- Designed to stand alone or to coordinate with a-light's "Elements" architectural LED outdoor pole-mounted product line, this vertical ground-mounted, outdoor bollard provides equally effective, substantial LED lighting in a Minimalist 3-ft.-high, architectural-design housing. Architects, professional lighting specifiers and other clients can now have the on-center spacings typical with pedestrian-scale light poles, without the vertical presence poles impose upon landscaped environments, and with far greater energy-savings. Made of 60% recycled metal, aire7 | X7 employs ultra long-life white LEDs for exceptional energy savings, low operating and maintenance costs.
Design: Justin Horvath, Director of Design and Development and the a-light lighting design and engineering team.
Manufacturer: a-light -- a division of AmerillumBrands.
Product Applications: aire7 | X7 is well suited for a broad range of outdoor ground- and pavement-mounted commercial, institutional, light industrial, municipal, and even upscale residential, environs.
These include apartment and condominium complexes; corporate and government office buildings and grounds; industrial parks; campus walkways, centers and dormitories; healthcare offices and facilities; high-traffic public buildings; hospitality, club and casino installations; public parking-garage exteriors; shopping malls; sports arenas and stadiums; transportation terminals, architecturally-conscious interior atriums, and the like.
Wherever the need for non-glare, high-performance LED lighting coincides with integrated, creative architectural lighting design; energy conservation; and very long operating life with negligible maintenance.
Product Description: aire7 | X7 is a low-scale, Minimalist linear bollard luminaire. Units appear as a narrow 4-inch-square housing, rising 36 inches from the ground. They employ a mere 6-inch-square direct downward clear flat outer lens, of .25-inch-thick tempered glass or polycarbonate. Lenses emit cantilevered horizontal, evenly distributed glare-free LED light.
Ideal aire7 | X7 bollard spacing is 20-ft. on-center; fixture forward throw is approximately 10ft. This latter type of light distribution achieves the on-center spacing traditionally seen only with physically imposing, expensive, watt-inducing pedestrian-level outdoor pole-mounted lights; without the vertical presence such products can inflict upon landscaped environments. Considerable energy-savings and product cost-savings ensue with the lower wattage, smaller aire7 | X7.
This substantial light coverage, resulting from such a small-lit portion of the fixture, was engineered using exclusive reflector design and LED placement. aire7 | X7 is offered in choices of 2 or 5 watts total, 120 or 600 lumen output, respectively. aire7 | X7 offers architecturally refined design, powered by a highly efficient LED source with distribution levels equal to that of a pedestrian-level pole-mounted LED light Only high performance diodes are used, made by Nichia®, inventor of white-light LEDs. Color temperatures are available in 3000K, 3500K or 4000K.
aire7 | X7 models operate on a 12V DC LED system, 120V to 277V universal voltage. All LED drivers are Constant Current to reduce power consumption. Low temperature performance to 140ºC, and zero to 10V dimming, is inherent. Units comply with IES LM-79 and LM-80 performance standards. Combination LED circuit board and driver are rated for 60,000+ hours, have a 5-year factory warranty.
High-quality, aluminum-clad boards are designed and manufactured in-house for maximum heat dissipation, using the precisely-binned Nichia® diodes. Appropriate thermal controls ensure proper fixture performance. Manufacture of a-light's own boards allows shorter lead times, superior quality control, greater cost-competitiveness, and provides flexibility to update specifications based on new technology. All a-light luminaires and LED boards are made in America, in the company's own modern, architect-designed plant.
Construction & Finishes: aire7 | X7 fixture housings are 4-inch x 4-inch constructed from high quality 60% recycled aluminum extrusions, 1/4-inch thick for greater outdoor durability. Each bollard is constructed with 90-degree corners, precisely cut, welded and sanded smooth. The cantilever extends 10.5 inches from back of the luminaire; 6 inches illuminates downward. A precision-milled 3.8 inch-thick aluminum endcap is applied to the facing edge, which allows a horizontal slide-out access panel. An integral power cut-off plug connects to local site wiring.
Mounting: The stainless-steel leveling plate and aluminum base is an innovation for bollards in lighting. Industry standard for bollard installation is typically achieved by pouring and setting a concrete pad, using embedded anchor bolts. Leveling and sealing is normally done using an extraordinary amount of grout, that tends to spill out in between the concrete and bollard, leaving a sloppy appearance. aire7 | X7 is a unique innovation, as our proprietary milled stainless-steel leveling plate requires no grout, looks clean and refined. The stainless-steel plate is non-conductive and non-corrosive. Installer is able to grade right up to the plate, resulting in the appearance of a bollard sitting on top of the grade, rather than on a lump of concrete.
Mounting base options are visible or concealed below grade, square or chamfered, at 7.75 inches. A pyramidal slope to chamfered base allows easier snow and leaf removal around the base. Installing either base below grade positions bollard height 4 inches lower, giving the appearance of a straight line emerging from the ground.
Finishes: aire7 | X7 may be specified in a-lightanium™ ,a warm, matte-metallic, the color of titanium metal; in dark bronze; or in satin black. Custom powder-coat colors may be specified. Units may be installed indoors as well. aire7 is UL, cUL Wet Listed, made in America, IES LM-79, LM-80 certified.
a-light is a proud member of AmerillumBrands, a U. S. manufacturer of specified contemporary, energy-saving interior and outdoor luminaires.
Contact
a-light +1-760-727-6627
E-mail:tshaffer@alights.com
Web Site:www.alights.com