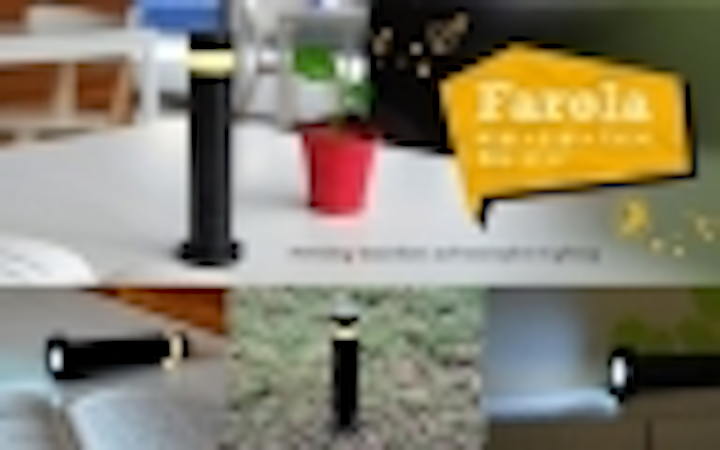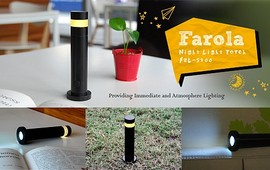 Date Announced: 06 Mar 2014
FZLED, maker of high-performance LED lighting products, is pleased to introduce the new collection Night Light Torch FZL-5100, named Farola. The portable and lightweight torch is made of aluminum alloy with two functions -- powerful 3 watts LED torch light and 0.5 watt night light, providing immediate and atmosphere lighting. It could be used in both home and work, including bedroom, living room and office.
The FZL-5100 torch is made with high quality aluminum alloy that is lightweight, portable and easy to carry. Measuring 140mm long and with a diameter of 40mm, it runs on 3 pieces of AAA battery consuming up to 3 watts power. It comes with five segment control selection -- All lights up on and off (torch & night light), torch 100%, torch 50%, flash, night light on and off.
The diameter of FZL-5100 is designed just fit for bike's bracket (26-33mm in diameter), providing extra function as bike torch. Moreover, there is a magnetic design, making it be able to attach to the surface of iron and then creating a variety of interesting applications.
The LED lifespan is more than 30000 hours. With an estimated run time of up to 10 hours when using fresh batteries, it is able to produce long distance illumination of up to 50 m. The torch is with water resistant and shock proof. Operating temperature for LED is minus 0°C to 50°C.
The LED torch uses lower power consumption to produce bright white light. Emitting no heat, UV or IR light radiation, the FZL-5100 LED torch is extraordinary in providing glare free and energy-saving lights compared to traditional torches.
The FZL-5100 is available soon in Taiwan, Singapore and Thailand. FZLED welcome enquiries from distributors, wholesalers, and retailers in order to bring it worldwide.
Features
Energy saving
No heat, No UV, or IR light radiation
Light source: LG & Lextar SMD
High magnetic attraction force
Long life time greater than 30000 hours
IP64 Waterproof
Power consumption up to 3W for torch & 0.5W for night light
Five segment control: All lights up 100% On/Off (torch & night light), torch 100%, torch 50%, flash (0.3s ON/0.3s OFF), night light on/off.
High quality aluminum alloy
Lightweight, portable, and easy to carry
Input power: up to 10hrs estimated run time when using fresh batteries
Applications
Indoor lighting
Architectural lighting
Atmospheric lighting
Immediate lighting
Flood lighting
Mood lighting
Spot light
Specifications of FZL-5100 Farola
Power consumption: 12watt (Torch) & 0.5 watts (Night light)
CCT: 6500K (Torch) and 3000K (Night light)
LED: LG (Torch) & Lextar SMD (Night light)
Input voltage: 3×AAA
Operation temp: 0° - +50°
Dimensions: –Ø40x 140mm
Net. weight: 132 g
Contact
PR Contact for FZLED +886-2-2228-7885
E-mail:PR@FZtech.com.tw
Web Site:www.fzled.com.tw