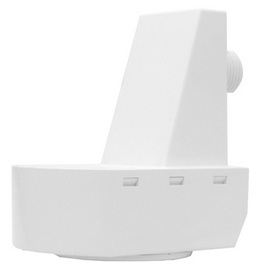 Date Announced: 05 Sep 2013
ATLANTA – Acuity Brands, Inc. (NYSE: AYI), a market leader in innovative energy-efficient lighting and control solutions, announced the launch of its new LSXR Fixture-Mount Sensor from Sensor Switch®. This sensor offers up to four interchangeable lenses and an integrated, adjustable mounting bracket, making it ideal for both high-mount and low-mount lighting control applications.
"The LSXR sensor is an innovative solution for many of our customers' most common applications," said Ben Hahn, Acuity Brands Lighting vice president and value stream leader for Sensor Switch. "Due to its built-in versatility and flexibility, the LSXR sensor offers optimal performance for varying mounting heights and fixture types. So, whether your application is a high-bay warehouse with luminaires on 40-foot ceilings or a hallway with fixtures mounted at 10 feet, the LSXR sensor is easily able to adapt to fit the needs."
Current and emerging energy standards and codes require the use of occupancy sensors to help cut energy consumption. Lighting represents a significant share of a building's overall energy footprint. Reducing that load by using occupancy sensors to turn lighting off and on can drastically reduce energy consumption. Sensors can also provide an added level of user convenience.
Sensor Switch offers a broad portfolio of occupancy and daylight sensors to help users increase a building's efficiency and reduce energy consumption. The LSXR sensor extends this market leading position and enables users to choose one sensor for all their fixture-mount applications.
The LSXR Fixture-Mount Occupancy Sensor offers up to four quick-change lenses designed for varying applications and mounting heights (6: High-Mount; 50: High-Mount Aisleway; 9: Low-Mount Small Motion; 10: Low-Mount Large Motion). The ability to change out lenses eliminates the need to replace the entire sensor. The LSXR sensor can be ordered stand-alone in a variety of powering and dimming options through local electrical distributors or it can be ordered pre-installed on many luminaires from Acuity Brands.
"We offer the LSXR sensor as a factory-installed option on many of the best-selling luminaires from Lithonia Lighting," stated Jeff Shaner, Lithonia Lighting senior value stream manager. "The flexibility it offers for a variety of applications combined with its outstanding detection capabilities in all types of environments make it a top choice for many customers."
For more information about Acuity Brands line of lighting and controls solutions, please visit Acuity Brands and Sensor Switch on the web.
About Acuity Brands
Acuity Brands, Inc. is a North American market leader and one of the world's leading providers of lighting solutions for both indoor and outdoor applications. With fiscal year 2012 net sales of over $1.9 billion, Acuity Brands employs approximately 6,000 associates and is headquartered in Atlanta, Georgia with operations throughout North America, and in Europe and Asia. The company's lighting solutions are sold under various brands, including Lithonia Lighting®, Holophane®, Peerless®, Gotham®, Mark Architectural Lighting™, Winona®, Healthcare Lighting®, Hydrel®, American Electric Lighting®, Carandini®, Antique Street Lamps™, Tersen®, Sunoptics®, Sensor Switch®, Lighting Control & Design™, Synergy® Lighting Controls, Pathway Connectivity™, Dark to Light®, ROAM®, RELOC® Wiring Solutions, Acculamp® and eldoLED®.
Contact
Rachel Kaylor
E-mail:rachel@sweeneypr.com
Web Site:www.acuitybrands.com