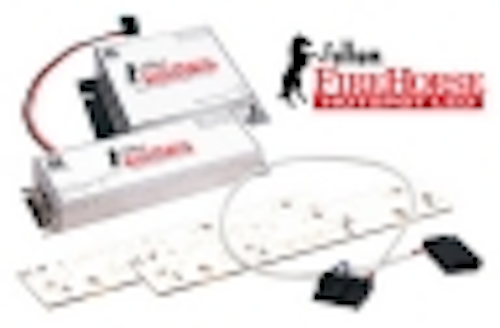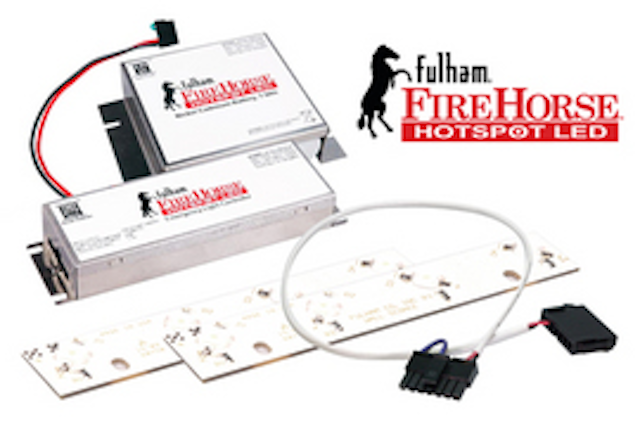 Date Announced: 04 Sep 2013
Fulham HotSpot Emergency LED lighting systems offer the ability to add discrete LED emergency capability to either LED or non-LED luminaires. "HotSpot1" adds emergency LED lighting capability to existing fixtures independent of their existing light sources; "HotSpot2" utilizes a portion of a luminaire's existing LED modules in emergency mode. The versatility of these innovative, modular, plug-n-play systems has been recognized in the lighting industry with awards by both EC&M and Lightfair International.
Fulham is pleased to announce the following HotSpot LED lighting system enhancements. Firstly, 12" battery harness extensions are now available for the HotSpot1 and HotSpot2 systems. Not only does this allow for remote battery mounting, but it also offers easy connecting and disconnecting of the battery without opening up the luminaire (useful during shipping of the fixture for battery preservation and useful during installation of the fixture, for example).
Furthermore, the HotSpot2 product (using existing fixtures' modules in emergency mode) now operates within a range of 100mA – 700mA, versus its prior 350mA – 700mA range. Within the 100mA – 700mA range, Fulham HotSpot2 is offered in relatively small 50mA increments (100, 150, 200, etc.). This flexibility offers the opportunity to custom tailor limited size fixtures with emergency systems of maximum emergency lighting lumen output. It also offers cost savings by allowing a fixture maker to choose the most appropriate battery to meet code requirements. (No need to overpower with more costly batteries, since such a wide variety of appropriate batteries is available.)
Contact
Jay Matsueda, director of marketing Fulham
E-mail:updates@fulham.com
Web Site:www.fulham.com