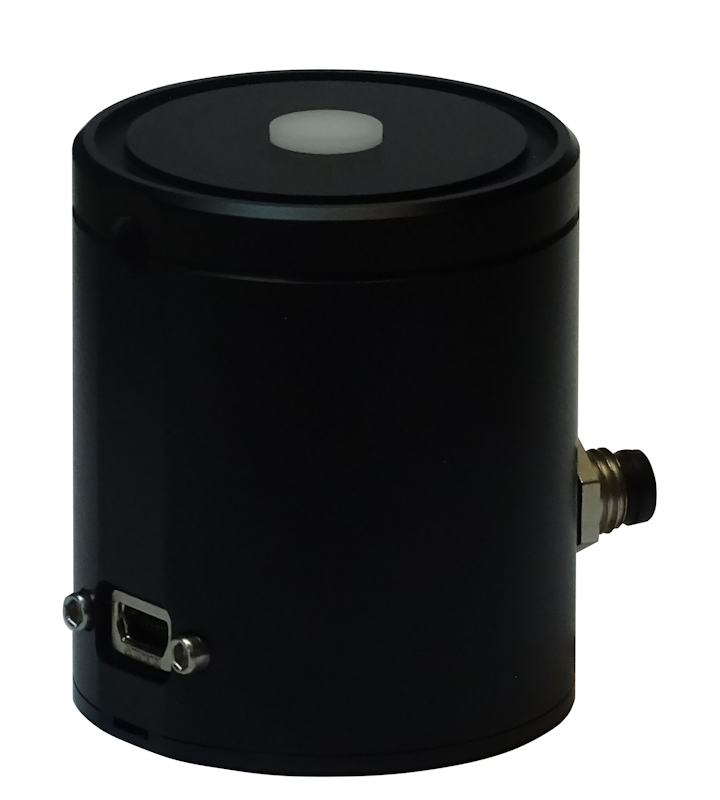 Gigahertz-Optik GmbH's CSS-45 packs the full power and capability of a spectroradiometer into a self-contained compact metal housing only 1.75" dia x 2" high.
The CSS-45 measures 28 different spectral light, color and specialty functions like PAR, Melanopic human centric lighting quantities and Bilirubin effective irradiance based on IEC and AAP guidelines.
The light sensor covers a spectral range between 360 nm and 830 nm (visible spectral range according to CIE S023). An optical bandwidth correction function based on CIE 214 improves accuracy. Automatic dark current suppression is accomplished by means of a built-in electronic shutter.
The CSS-45 has an excellent cosine response (f2≤ 1 %) while at the same time offering a wide measurement range between 1 lx and 350,000 lx.
The detector attaches to and is powered through a PC via a one meter long USB cable. All measurement, data readout and collection is controlled by the supplied software. An SDK is available for self-programmers.
An RS485 interface permits fast communications with the device at longer distances for remote applications.
Every CSS-45 comes calibrated and certified by Gigahertz-Optik's calibration laboratory that is accredited by DAkkS (D-K-15047-01-00) for spectral responsivity and spectral irradiance calibrations according to ISO/IEC 17025.

Request More Information
Fill out the form below to request more information about CSS-45 Intelligent Spectral Detector.
---