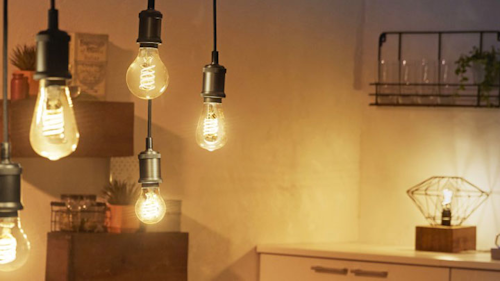 September 5, 2019

Instantly create a cozy atmosphere in your home with this Edison bulb-inspired design
Use with the Philips Hue Bluetooth app for easy wireless dimming or pair with a Philips Hue Bridge for ultimate control


Somerset, New Jersey – Signify (Euronext: LIGHT), the world leader in lighting, has unveiled its brand-new Philips Hue Filament collection, perfect for those who want to bring vintage style to their smart home.

With a design that is reminiscent of traditional, incandescent Edison-style bulbs, the smart LED lights allow you to easily create the perfect ambiance. Effortlessly set the mood in a room with the collection's warm white light (2100K, 530 lumens) and installation-free wireless dimming. The bulbs' beautiful shapes with their amber coating add elegance and style to any room — whether they are on or off.

Whether used in a wall fixture, suspended from the ceiling or simply placed in your favorite lamp with or without a lamp shade, Hue Filament bulbs are just as smart as they are sophisticated with their glowing inner coils.

You can start with a single Hue Filament light bulb or connect multiple bulbs to easily set the perfect look and feel in your room. Control the collection instantly with the Philips Hue Bluetooth app or with a compatible voice device, or pair them with the Zigbee-based Philips Hue Bridge for ultimate control and to enjoy additional smart features. The Hue Bridge provides access to the full Philips Hue ecosystem, including full home control of indoor and outdoor lights, away from home control, Philips Hue Entertainment and Friends of Hue, as well as third-party app compatibility.
Our new Philips Hue Filament bulbs combine modern technology with vintage design. You can instantly recreate the feel of your favorite bistro or simply add visual style to your room. It's simple to control and personalize your lighting with just a tap of your smartphone or with a voice command."
Jasper Vervoort,
Business Leader Home Systems & Luminaires Philips Hue at Signify
The Philips Hue Filament collection includes three form factors: the traditional A19 light bulb shape ($24.99), ST19 tube ($27.99) and G25 globe ($32.99). The portfolio will be available in the US in October 2019.
For more information about the new Philips Hue Filament collection, visit www.meethue.com.