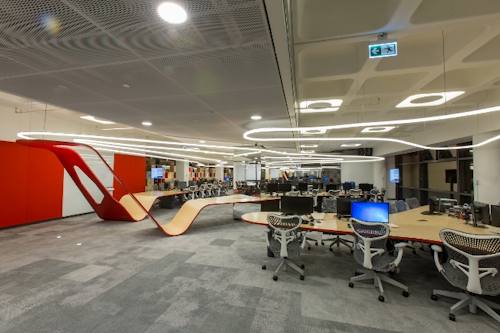 LAMP 83's SIGN ON YEMEK SEPETİ PARK…
LAMP 83's Wiggle, the modular lighting system that breaks the rules in lighting, carried the free design spirit to the new office of the Yemek Sepeti.
LAMP 83, which makes the cooperation with many national and international brands in different sectors with the optimal solutions presented in the lightening, also added 'Yemek Sepeti' among its business partners. Wiggle, which LAMP 83 regards as a revolution in light design and owns the patent, played the leading role in creating the most exciting place in 'Yemek Sepeti Park' the new office of the company in İstanbul.
Wiggle, that provides freedom to create any desired forms or curves in your space, was preferred by looking for a lighting design that would be compatible with the dynamism and architectural concept of the call center where the heart of the office and a space that lives 24-hours.
Wiggle is a complement to the architectural concept, adapting to the decorative structure of the space, including straight, circular, oval or curvy forms. Wiggle creates a stylish sensation with a special acrylic diffuser unit, and providing the needed light, it also gives employees a visual comfort at the top level.
M. Architect Kerem Erginoğlu, from Erginoğlu&Çalışlar Architect, who realized the interior architect Project, summarized their criterias in lighting as "As computers, tablets and smartphones became part of our lives in recent years, user expectations in office lighting have become quite different. With the exception of general lighting, users now expect more personalized products. In the past, it was demanded that the table surface lighting level (500 lux) would be convenient to work with paper pens and to read. Nowadays, the screen is a light source, so this desire become a secondary signifiance. Users prefer products, that do not shine on their screens, with glare free and dimmable or direct and indirect properties".
Mr. Erginoğlu also evaluated the preferability of the Wiggle product and the cooperation they carried out with LAMP 83 and commented as, "We chose LAMP 83's Wiggle product because the call-center is the heart of the office and a 24-hour working environment, it gives the right answer to the needs of employees. We imagined an infinite table spreading across the floor to provide a free working environment in the Yemek Sepeti project. We named it "snake table" to symbolize the length. When the design of the table was going on, we were questioning what kind of lighting it should be. It should has a flexible lighting, it should follow our form, and if necessary it should be dimmable.
We found the illumination product that we are searching at LAMP 83. It was made for us. Thanks to the special panel, there were many different scenarios available. Moreover, this innovative product has not been used anywhere yet. We made the agreement immediately and production process started. During mounting we received the support of the LAMP 83's mounting team. After all, the product was exactly what we wanted. We were able to make the trace of the amorphous table's plan on the ceiling. At first, we and our employer were very pleased with the result. It was one of the most exciting places in the office."
LAMP 83 Sales Grop Manager Serhan Acar, spoke as follows about the work done, "Yemek Sepeti Park is a project where we worked with excitement and had a great pleasure in taking part. When the architectural group executing their needs, virtually they described Wiggle and the product to be used in the project also appeared spontaneously. Combined with the architectural concept and decoration, Wiggle meets all the expectations of illumination with its automation feature and dimmable, enabling us to offer the most suitable architectural and functional solution for the project. As a result, we have signed a project that LAMP 83 is proud of."
Photo Gallery of the Project: http://www.lamp83.com.tr/referans/187/yemek-sepeti-park/
Video of the Project: https://youtu.be/aWg0Fwoknbw
For further information:
Mustafa aysal
Corporate communicaiton&Marketing Specialist