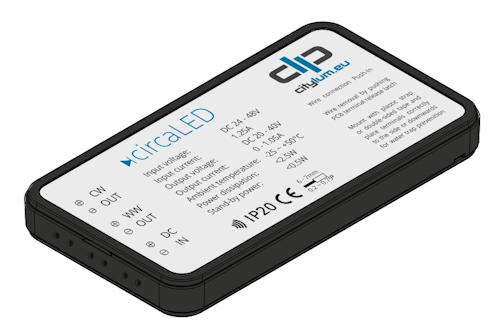 CircaLED is a dual output LED driver, containing features which are becoming standard for the outdoor smart LED drivers, but also bringing the main and unique feature, which is the ability to autonomously control both outputs to reach the colour tuning and decrease the blue component of the light spectrum by using both "white" and amber LED chips.
CircaLED is a product designated for professional usage by the luminaire designers and manufacturers. While Tunable-White LED drivers are being offered by various companies, CircaLED is different in philosophy by thinking of decreasing or eliminating the blue component of the light spectrum emitted by the luminaire during the night time.
The LED luminaire will be equipped with the required LED chips, usually with CCT of 4000K for a modern look and efficiency, as a primary string. It will also be equipped with the second string of amber LED chips with CCT of 1800-2200K. CircaLED then controls both outputs separately for mixing of CCT and dimming when required.
CircaLED's autonomous operation is based on calculating natural midnight without the need for the additional equipment or real-time clock. Based on this principle, the luminaire is operated based on presets with the CCT levels, power levels and their timings.
Programming of the CircaLED is straightforward using an Android OS device or smartphone with the NFC interface, which is used for wireless transfer of the settings.
For technical details, please view the product datasheet in the link below:
http://citylum.eu/wp-content/uploads/2018/04/CircaLED-CLM-60-48-IP20.pdf