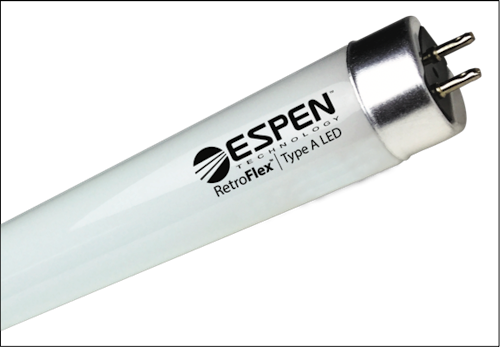 Espen Technology has released 10W Type A Glass LED T8 Lamps, as part of its popular RetroFlex product line. The new 10W plug-n-play lamps make an ideal retrofit when the building owner wants an LED solution using the existing fluorescent ballast, with no rewiring. 10W is now the lowest wattage available in the industry for type A TLEDs, available in 2', 3', and 4' lengths. The 10W RetroFlex lamps boast DLC listing for utility rebates, are instant on, and are compatible with both instant start and programmed start electronic ballasts. The real glass tube creates even light distribution, heat diffusion, and an ultra-wide 325 degree beam angle. The trouble-free 50,000 hour rated life comes with a 5 year warranty. Additionally, the lamps can be operated with existing shunted or non-shunted tombstones.
"The new 10W RetroFlex Type A lamps represent the latest improvement in Espen's RetroFlex lamps," said John Clancy, SVP of Sales & Marketing at Espen. Clancy added, "These are now the lowest wattage Type A lamps available in the market, creating the best TLED ROI's we've ever seen. They even maintain the original UL certification of the fixture."
The new 10W type A lamps deliver 1600 lumens, in 2', 3', and 4' lengths. The lamps deliver 160 lpw, operate on 120-277 and 347 volts, and are offered in 3000K, 3500K, 4000K, and 5000K CCTs, with 80+ CRI. Ideal applications are offices, retail, healthcare, educational facilities, and hospitality.
Detailed product information and specifications for the new 10W RetroFlex lamps can be obtained by emailing jclancy@espentech.com or visiting www.espentech.com .
About Espen Technology
Espen Technology Inc. is a company dedicated to designing and manufacturing high quality, high performance linear LED lighting components. With operations and facilities across the world, Espen Technology offers competitive products with the highest quality. Headquartered in Southern California, Espen Technology is able to offer personalized sales, expert technical support, and efficient logistics to all of its customers. LED products are designed and perfected with pride in the United States.
###
Media contact:
David Shiller
Espen Technology Inc.
412-897-6432