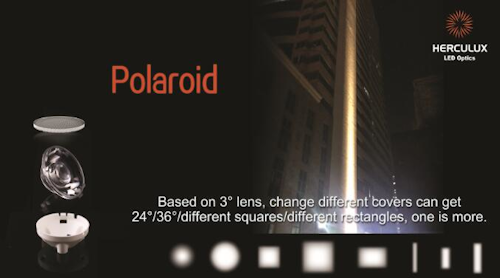 Polariod means using the normally narrow beam angle circle optics to achieve different beam angle, different shape of the facula. Main application is the partial lighting in the art exhibition, not only can achieve different facula requirements, but also can decrease the cost effectively.
Principle:
By designing the microstructure on the variator, the light emitted by the small-angle lens is diffused into the desired shape and angle, and then the light transmitted by each microstructure is superposed to form the final required light spot.



The microstructure on the circle optics can be controlled by software parameters to adjust its shape so that the light diffuses through the microstructures differently (widening the angle and changing the spot shape).
Multiplemicrostructures transmitted out the spot superimposed can make the spot more uniform, the shape clearer.