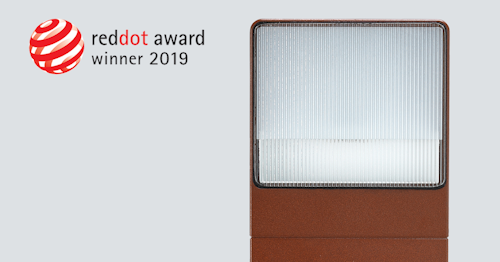 DW Windsor are proud to announce that Ren; a sleek and sophisticated range of bollards and waymarkers, has claimed a prize in the 'Product Design' category of the world-renowned Red Dot Awards.
The Red Dot Award: Product Design is one of the world's largest design competitions, dating back to 1955. In 2019, designers and manufacturers from 55 countries entered more than 5,500 products in the competition. With an international jury comprised of experienced experts from varying disciplines in search of good design and innovation. Their assessment focused on the following criteria; level of innovation, functionality, quality, longevity and ergonomics. Past category winners include Apple, GoPro, Logitech and Dyson.
Defined by clean lines and performance, Ren scored highly. The range was introduced by DW Windsor to challenge the conventional perception of illuminated bollards from a simple, refined yet robust body. Its flat-screen optical system representing genuine innovation over existing lighting bollards.
Available in two formats: a 'Performance' version with minimal upward light and strong forward and lateral projection: for excellent ground illumination, and a 'Performance Plus' version which offers the same downward lighting qualities with an added area of diffused light. This extra optical component enhances volumetric vertical illumination for facial recognition and increased ambient lighting.
Professor Dr. Peter Zec, founder and CEO of Red Dot said, "I would like to congratulate the winners on their wonderful success. The fact that their products were able to satisfy the strict criteria of the jury bears testimony to their award-winning design quality. The winners are setting key trends in the design industry and are showing where future directions may lead."
Alan Grant, DW Windsor Design and Development Director concludes, "This is a remarkable achievement for the range, not many exterior products gain recognition in these prestigious awards, let alone a bollard. We knew Ren 'went beyond the ordinary', but it's great that this has been confirmed by the design community."
Design by DW Windsor & Luke Smith-Wightman
For more information about Ren visit: https://www.dwwindsor.com/products/ren/
About Red Dot Design Award
Red Dot stands for belonging to the best in design and business. Our international design competition, the "Red Dot Design Award", is aimed at all those who would like to distinguish their business activities through design. The distinction is based on the principle of selection and presentation. Excellent design is selected by competent expert juries in the areas of product design, communication design, and design concepts. For more information visit: www.red-dot.org