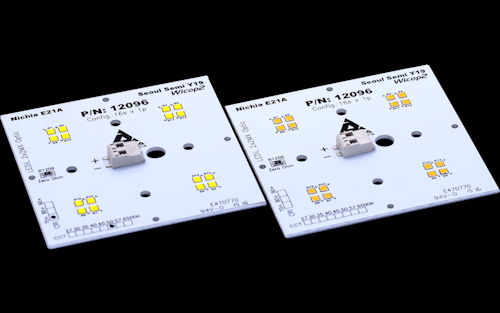 ADURA LED Solutions has launched a line-up of Ultra high performance chip-scale package (P/N: 12096) LED modules based on NICHIA E21 and Seoul Semiconductor Y22 CSP LED for outdoor and Indoor applications.
"Our new Ultra high performance CSP LED modules provide an optimal thermal performance for lighting manufacturers who seek highly compatible and reliable MCPCB and LED components," says Abdul Aslami, Sales and Marketing Director at ADURA. High lumen applications such as outdoor and industrial lighting benefit from the high drive current capabilities and robust high power architecture of ADURA Ultra high performance low thermal resistance MCPCB Technology. In addition, the MCPCB boards are designed where each lens have a cluster of four small light CSP source with high lumen density of E 21 or Y22 CSP LED.
The new 2x2MX CSP LED modules are available in form factors (2.874" x 2.874" (73 x 73 mm)) and are designed to be compatible with LEDiL 2x2MX STRADA Lens family.
The MC12096 modules are based on CSP LED package and both Nichia E21 and Seoul Semiconductor Y22 CSP LEDs has completed 10,000hrs LM-80 test at the max current tested at1050mA. The ADURA 12096 CSP Module is offered in color rendering indexes (CRIs) of 70+, 80+ and 90+ and correlated color temperature (CCT) of 2700K – 6500K.
Data sheet: http://aduraled.com/12096.html
Currently ADURA LED Solutions have manufacturing capacity for 50,000 CSP modules per month in our state of the art facility in Corona, California. For more information, please contact us at sales@adura.com
About ADURA LED Solutions
Located in Corona, California, ADURA LED Solutions is led by a team of thermal management experts and LED Module designers. ADURA LED Solutions is a leading US manufacturer of high-quality LED modules, optimized for a variety of mid- to high-power indoor and outdoor applications and are offered in 70+, 80+ and 90+ CRI across a broad range of CCTs (2700K to 6500K plus red, green, blue and amber). In addition to Standard product, ADURA LED Solutions offers Custom MCPCB design. Bring us your opportunity for a truly unique standard MCPCB or SinkPAD PCB Technology design & manufacturing.
Contact:
Adura LED Solutions
E-mail:
Web site: