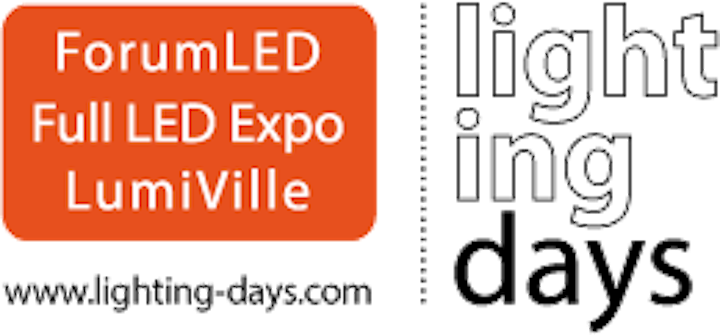 Lighting Days : is the gathering of 3 international
leading events in Europe dedicated to LED
technologies, indoor & outdoor lighting : ForumLED
Europe + Full LED Expo + LumiVille
KEY NUMBERS :
> 150 EXHIBITORS
> 3000 VISITORS ATTENDED
> 350 DELEGATES
> 50 SPEAKERS
> 30 NATIONALITIES REPRESENTED
ForumLED Europe :
The Congress / Exhibition dedicated to LED technology !
By bringing together, for more than 8 years, the
entire ecosystem of LED technology, ForumLED Europe
has become the most important event on the subject in
Europe.
ForumLED Europe's success is based on the association
of a high-level international congress and a
high-valued added B to B exhibition.

Full LED Expo :
The 100% LED lighting trade fair !
All solutions for LED lighting & indoor lighting in
one event.
Important developments in LED technology open up a
huge field of applications in the lighting sector.
Full LED Expo is the place to discover the latest
innovations on the only French trade fair dedicated
to LED lighting.
LumiVille :
The outdoor & Public lighting trade fair !
To discover the current and future solutions related
to outdoor, Public & smart lighting, to be aware of
the sector's lighting tendencies, LumiVille is the
unique platform in France for trade and lighting
business development.