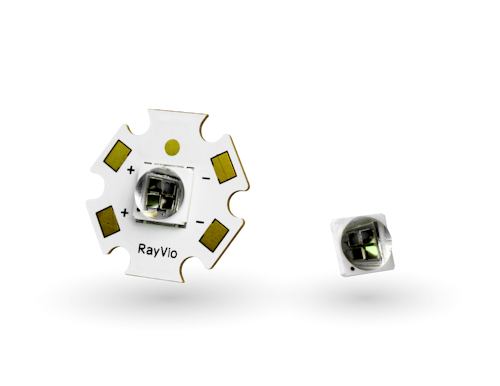 RayVio Corp., an advanced health and hygiene company, announced today that it is already in volume manufacturing of its 70mW XP Series UV LEDs. The most powerful UV-C LEDs in the industry are available now for new and existing programs. RayVio's increased performance – up from 60mW in January 2017 – makes it easier for manufacturers of medical devices and flowing water systems to achieve Sterility Assurance Levels (SAL) of
10-6 or 99.9999% reduction in bacteria.
"There is growing concern with the safety of water supplies and of diseases and infections that are spread in healthcare settings," said Dr. Doug Collins, RayVio's CTO. "Our UV-C LED performance improvements support the development of disinfection and sterilization systems that reduce the risk of infection and spread of disease."
---
Sterility Assurance Levels
Reduction levels of one million bacteria on a medical device are shown below.
The Centers for Disease Control and Prevention (CDC) considers a device meeting log10-6 to be sterilized.
SAL 10-1 produces a 90% reduction or 100,000 bacteria.
SAL 10-2 produces a 99% reduction or 10,000 bacteria.
SAL 10-3 produces a 99.9% reduction or 1,000 bacteria.
SAL 10-4 produces a 99.99% reduction or 100 bacteria.
SAL 10-5 produces a 99.999% reduction or 10 bacteria.
SAL 10-6 produces a 99.9999% reduction or 1 bacterium.
---
RayVio will be talking and working with epidemiologists and healthcare professionals focused on infection control at the upcoming APIC conference in Portland, Oregon, June 14-16. The company will also be in stand 356 on the show floor.
RayVio's increased performance earlier in this year and further expected improvement in 2017 keeps the company on-track for delivering 100mW performance from a single device in the near future.
About RayVio Corp.
RayVio Corp. is an advanced health and hygiene company that delivers clean water and environments. RayVio helps protect billions from germs and creates new markets and revenue streams by enabling a new class of products. Its powerful and efficient UV LED technology can be integrated into a variety of applications, powering versatile on-demand solutions that give consumers control over health without chemicals or costly consumables. To learn more, please visit www.rayvio.com.
Contact
For more information contact
Leon Pikaar
+1.408.209.2557
info@rayvio.com