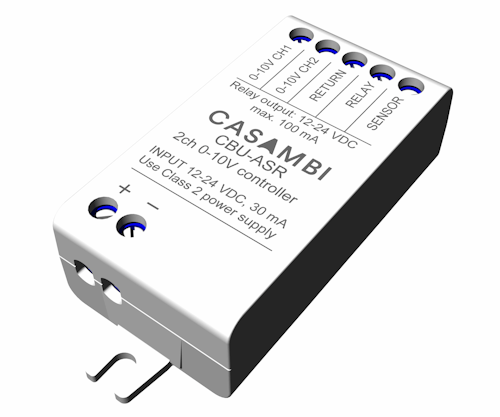 The CBU-ASR is a wireless lighting controller that is designed specifically for direct integration into lighting fixtures for commercial buildings. It provides two independent 0-10 VDC channels / control signals suitable for tunable white (applications or any implementation that requires advanced control.
The Casambi system can be used to control a single luminaire or a complete lighting control system in an intelligent mesh network.
Powered from an external 12-24 VDC Class 2 power supply, consuming just 30 mA, the CBU-ASR includes a low voltage (12-24 VDC) switched output that can be used to control an external relay or power pack. A sensor input is suitable for use with industry standard occupancy sensors and the CBU-ASR can propagate this signal on the wireless network to control nearby devices, or even large areas.
Its small size of just 2.2" x 1.2" x 0.7" (72.6mm x 30.0mm x 18.0mm) allows for easy integration directly into the lighting fixture or electrical junction box, thereby reducing installation costs. To enhance radio range in large buildings, the CBU-ASR may also be surface-mounted on the luminaire or junction box.
Installation costs are further reduced through the use of Casambi's intuitive mobile device app that greatly simplifies system setup and configuration. The app is downloaded at no charge via the Apple App Store and Google Play Store.
The CBU-ASR is UL and cUL listed, plenum rated and FCC/ISED certified. It is available for quantity orders now.
About Casambi
Founded in 2011, Casambi's wireless lighting control software platform empowers users of smart devices to interact effortlessly with modern lighting around them. Based on Bluetooth Low Energy, the award-winning Casambi solution delivers a dynamic user experience, exceptional reliability and unrivalled performance. From basic, individual lighting-fixture controls to industrial-scale solutions with cloud-based remote control, monitoring and data logging, Casambi's technology can be easily integrated at low cost into lighting fixtures, drivers and modules. Additionally, installations can gain advanced lighting control functionality with minimal hardware and deployment outlay. Casambi develops its products in Finland and has a growing sales and support service across Europe, North America and Asia. For more information, visit www.casambi.com.
Contact for editorial information
Nayl D'Souza, Account Director, Publitek / Tel: +44 20 3813 6423
Email: nayl.dsouza@publitek.com