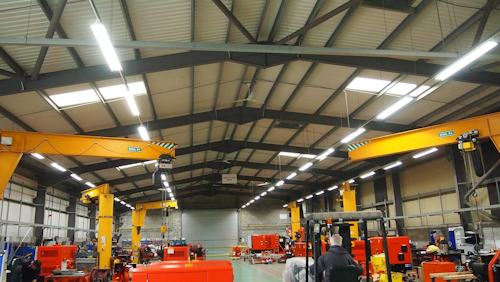 Ledison supplied Premiun LED Industrial Lights to Xylem UK
Voltacon was appointed as the exclusive supplier of Xylem Dewatering Pumps in the UK, to supply and install LED Lights to the industrial premises and offices.
The qualified Electricians of Voltacon retrofitted LED T8 tube lights in existing 6ft (180cm) and 8ft (240cm) battens. Having replaced only the fluorescent tubes the customer is going to achieve an impressive ROI (return on investment) of 12 months.
The largae storage areas were lit by SON 400W (high pressure sodium) lamps. The linear high bay fitting at 100w was the ideal replacement. In area with 6-7 meters ceiling height, the ultra bright 150W Linear Bay Light was installed.
Picture 1. The Linear Bay Light with meanwell power supply. 150W, 16000lumen, aluminium housing, 50k hour life expectancy
The T8 LED Tubes. Voltacon supplied the longest T8 tube in the market 240W with twin built in
LED Driver
The LED panel light was choosen for the office areas, restaurant and corridors. The old fluorescent recessed lights were replaced by 40W 600x600mm panels. The Ledison square panel is powered by Philips Xitanium Driver.
You can find out more about our products and serivces on our website
https://www.ledison-led-lights.co.uk
Businees customer can now be benefited by our LED Leasing program. Voltacon will supply LED lighting to you and the montly payment are made automatically using the energy saving . In fact we can even fix the "LED Lighting Lease" so that the monthly payments are LESS than the energy and maintenance savings. YES, we can really save money for business every month. Please feel free to contact our sales team: +44 2477 675 575
VOLTACON UK LIMITED
Led Lighting Division
Coventry UK