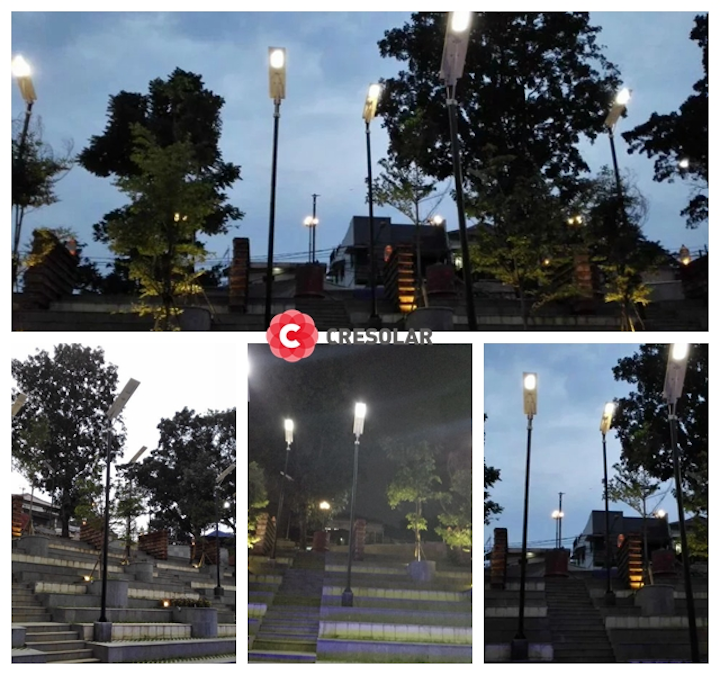 Solar powered LED lighting systems is a system which is made of a photovoltaic panel to collect sunlight and transform it into electrical current. The current goes through a controller that charges a storage battery. it is free and no electricity bills through whole year. It is a 100% green energy saving system. The solar powered LED lighting system offers a solution for areas where grid availability is weak and roads are poorly lit. In some remote regions, especially in the mountains, have roads that need lights and roads are mostly not equipped with electricity poles.
Solar Powered LED Lighting Systems are an efficient means to provide lighting without the need for standard utility power. Every system provides cost savings by eliminating the need to trench standard electric wires for installation or in areas where existing utility lines do not exist. These commercial outdoor solar LED lighting systems feature a long life, fully rechargeable unit that allows for complete OFF GRID operation. The exceptional storage system allows for up to 3 days continuous illumination without a single recharge!
Compared to traditional on grid LED street light system, it needs labors to dig and install the necessary wiring, re-asphalt and install the light poles and this requires considerable investment and time for execution. It is too complex, and for solar led street light system, it is easy to install it pole or anywhere which needs to be lighted. More easy and flexible.


Solar LED Lighting system has different powers depending on their applications, from garden light using to landscape lighting, yard lights, normal street lights or highway lights with a power up to 5W or 120 watts.
We can provides solar street lights customized to your requirements, CRESOLAR Solar Light Specifications:

1. Solar Panel
Monocrystalline / Polycrystalline (18 Wp - 200 Wp)

2. Storage Battery
Lithium battery 12 V (55 AH~200 AH) / gel battery

3. Solar Controller
Capable of against over discharging, overcharging, anti-lightening, light control & time control

4. LED Lamp
High brightness LED, up to 100-130lm/w

5. Pole
Steel, hot-dip galvanizing & power-coated, Height 3 m - 12 m or customized
6. Work Time
5 - 10 hours per day, it can still work normally 3 - 5 days if it is cloudy

Welcome to contact with our sales for more detail information.