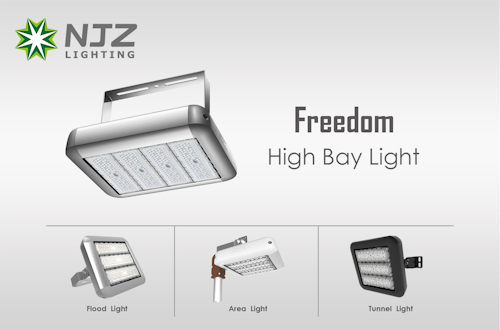 The Freedom series LED High Bay Light with UL, DLC4.1 premium, FCC, CE and CB certifications, as the classic LED product of NJZ LIGHTING, is already widely used in warehouses, factories, plants in North American, South American, Europe, Africa, Australia, Newzealand and some other areas in the world.
Well known for high quality and efficiency, Freedom series LED High Bay Light is offered in multiple power rates with lumen packages ranging from 6,000-48,000 lumens with efficacy up to 120 LPW.
The energy saving LED High Bay Light adopts aluminum housing which is corrosion resistant and durable. Modular and air holes back plate design ensure good heat dissipation and 100,000+ hour long lifespan. 25°, 60°, 90°and 120°beam angle meet demands of various lighting distributions in application.
Now with some retrofit in design and installation, Freedom series LED High Bay Light is able to be applied in different sites with new functions. Freedom series LED area light is able to be used in parking lot and plaza through using a connector to install the lighting fixture to a pole. By modifying the bracket, Freedom series LED High Bay Light is able to be mounted on floor as a floodlight, or mounted in tunnel as a tunnel light. Work in the ambient temperature of -30°C~+50°C and IP 67 certified, it delivers cool or warm light durably and stably.
To learn more about Freedom series LED High Bay Light, please visit www.njzlighting.com.
About NJZ Lighting:
As the 1st UL844-C1D1 Explosion Proof Luminaires Manufacturer in China, NJZ Lighting is dedicated to be the best LED industrial lighting developer and manufacturer in the world. We specialize in innovating and manufacturing high quality LED product through outstanding R&D team, professional testing equipment, and close cooperative partnership with national famous colleges and scientific research institute. The self-developed LED highbay, streetlight and explosion proof light have been widely used in application cases from Mobil, Sinopec, several municipal streets and tunnels, winning consistent reputation from all the clients, the same with those customized LED highbay and shoebox applications in Belgium, America, Canada and some other high-end lighting markets.
Contact:
NJZ Lighting Technology Co., Ltd.
+86-25-52397600-8816
E-mail:
Website: