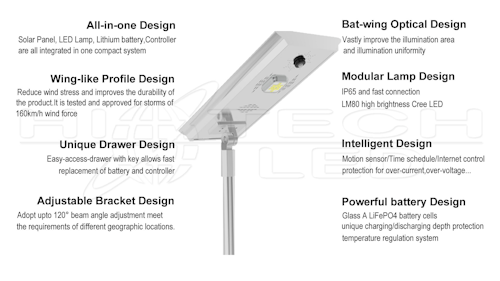 Brief Introduction:
All-in-one integrated solar led street light is a new kind of solar led street light for the road and/or area lighting.It is an green and clean renewable energy product. It integrates the high efficient solar panel, super high-output LED lamp, powerful LiFePO4 lithium battery and a smart power management controller system into a slim compact body. In addition, there is a light sensor on the lamp. At daytime, the solar panel can absorb the solar energy for battery charging, while at dusk, the LED lamp will be on automatically and the battery will supply the energy to the lamp for area illumination. What's more, the lamp can be customized with motion sensor or time control mode. Its brightness standard can be adjusted by movement or time schedule. The system continuously monitors the remaining battery charge and regulates light output automatically to extend operating time.It is extremely versatile,robust and prefect suit for those areas where there is sufficient sunlight.It is 100% powered by solar. It has solved the problem of complex installation and expensive transportation compared with traditional solar LED street light. No external cables, then it is very easy for the installation.It is extremely suit for those places where grid power is not available or wiring is not economical or convenient.
Key Features:
- Solar panel,LED lamp,battery,controller all-in-one integrated compact design;
- No external wires or cables needed;Friendly easy installion;
- Using high brightness Bridgelux/Cree chips(LM80) from USA, efficiency upto 210LM/W;LED lamp upto 150LM/W~180LM/W
- Professional optical lens design adopts light transmittance over 95%,light utilization over 60%;
- IP65 modular LED lamp with fast assembly connector;
- High quality monocrystalline PV adopt over 20% conversion efficiency(IPCE);
- MSDS passed high quality lithium Iron phosphate(LiFePO4) battery adopt lifetime over 2000cycles(5~8 years);
- 100% solar powered green renewable energy;
- Auto turn on at dusk and turn off at dawn;
- PIR motion sensor optional, help to save more power;
- Unique elegant swing-like anti-storm profile design adopts corrosion protection;
- Drawer function design battery holder
Benefits:
- Small volume helps to save freight cost and storage cost;
- No need trenching or wiring job ,reduce labor cost and materials cost;
- Renewable energy ,no electronic bills any more;
- Professional light distribution design eliminate the light waste;
- High quality durable components ensure 5 to 8 years no maintenance;
- User friendly. Plug & Play design. Fast installation. No need training;
- Green light reduce fossil fuel consumption, eliminating pollution;
- Battery backup for cloudy and rainy days;
- IP65 design suitable for any place where is sufficient sunshine;
- Drawer design easier the possible maintenance of battery and controller;
Applications:
Street,residential road, parking lot, pathway, ramp, farm & ranch lighting, wildlife area, dock& pier, military ,personal garden, plaza, highways……any exterior area wherever there is sufficient sunlight.
Visit https://www.hitechled.cn or https://www.solarledlight.com.cn for more details now.