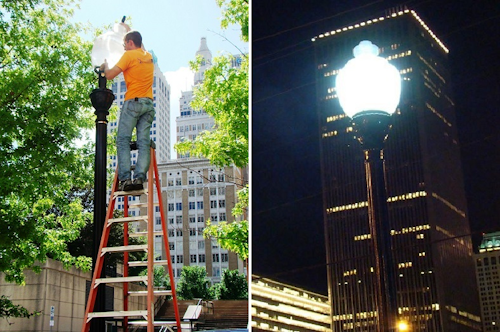 Owasso, Oklahoma – CROSSROADS LED has announced that after a year-long evaluation, involving no less than eight LED lighting products and distribution companies, the City of Tulsa, Oklahoma has selected Crossroads LED to provide their proprietary LED acorn retrofit luminaires for a city-wide project that will convert all acorn style metal halide fixtures to LED technology.
"The aging metal halide acorn fixtures required never-ending and increasingly expensive maintenance cycles," stated Buddy Stefanoff, Crossroads LED Vice President. "As replacement fixtures were prohibitively expensive, the City sought an economical solution that would also increase the illumination levels."
For this project the City engineers investigated a number of LED products on the market and discovered that not all LED luminaires perform as advertised or met the City's strict illumination standards. As a result, the City took the unusual step of requiring independent test reports for all LED luminaires submitted to verify the manufacturers' claims. After a thorough and complete evaluation, the City chose the easy-to-install 70-watt acorn retrofit luminaire solution, designed and manufactured by Crossroads LED, as it was the only one submitted that met the specification requirements. Retrofitting the fixtures to LED technology not only lowered the energy use but also increased the available illumination levels and eliminated the man-hours once required to maintain the original metal halide components.
The 10,000 lumen acorn retrofit solution, one of the brightest and most efficient retrofits on the market today, will ultimately lower the City's annual lighting energy use from over 296,000 kilowatt hours to just under 92,000 kilowatt hours.
"Retrofit luminaires allow cities to convert their existing metal halide lighting platforms to LED technology at a significantly lower cost than replacing their entire light fixture inventory with new and unproven LED luminaires", said Dana Stefanoff, Crossroads LED President. "Most cities and municipalities have already invested a great deal in their lighting infrastructure and our retrofit technology allows them to continue to make the most of this investment while still benefitting from the latest and most efficient LED technology."
Additionally, the local utility provider, AEP/PSO, will provide a rebate to the City of Tulsa for this retrofit project. Crossroads LED is a long time participant of the rebate program and maintains the highest standards of efficacy and reliability for all of their clients in order to maximize the potential rebates offered by utility providers.
The CROSSROADS LED retrofit luminaires are also available for a wide variety of historic, decorative, vintage and pedestrian lighting applications. No longer is the consumer forced to choose between optical output and energy efficiency. Both aspects, and more, are combined in our industry leading retrofit luminaires.
CROSSROADS LED, LLC, located in Owasso, Oklahoma, is an advanced LED engineering and manufacturing company that utilizes its patented retrofit technology to replace existing and traditional lighting platforms with solid state lighting luminaires for the commercial and industrial lighting markets.
For more information on Crossroads LED and its LED lighting product line, visit www.crossroadsLED.com or contact sales at:
Phone: 918.504.6595