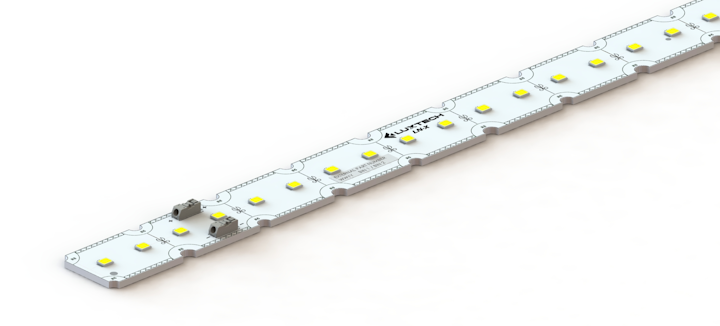 LUXTECH, a leading American manufacturer of architectural grade LED modules, has introduced an innovative, flagship white linear LED module that is cuttable every 1 inch.
"We put a lot of care into the design - many of our customers love our FLEX tape's ability to be cut to any length so we married that experience to the best of rigid modules to give our OEM customers the best possible product," says LUXTECH product manager Jim Clarke.
The 1-inch cuttable module allows manufacturers to reduce the number of SKU's maintained in inventory and provides flexibility for creating custom fixtures with a standard length board.
LN-X has a rigid linear board made of high thermal performance 1.6 mm Aluminum MCPCB. It is equipped with 90+ CRI Samsung LEDs standard and has an L70 rated lifetime of 50,000 hours. The board is designed to maintain consistency across long spans with a nominal 36V forward voltage.
LN-X is available in six standard CCT's from 2700K to 6500K. The specification sheet and other product data can be found on the LUXTECH website. For more information on where to purchase LN-X, please contact: Jayme Dorfmann at jdorfmann@luxtechled.com or 301-580-4443.
About LUXTECH
LUXTECH is an LED component design and manufacturing company specializing in high quality LED modules and architectural grade lighting solutions. LUXTECH is a catalyst for health and well-being through human centric lighting systems. Their inventive custom engineering for natural lighting is advancing emotional wellness and productivity with the potential for global social impact. LUXTECH is located in Philadelphia's Old City neighborhood.
Contact:
LUXTECH
325 Chestnut Street, Suite 1212
Philadelphia, PA 19106
Tel: 215-494-3333
Media Contact: Amy Scheel at amy@luxtechled.com.