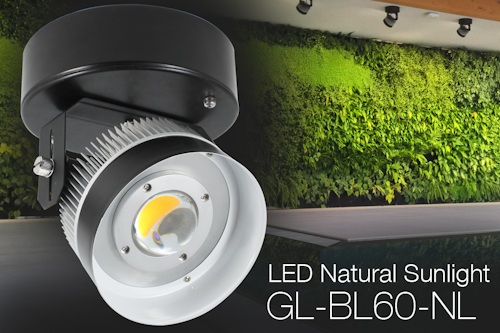 GlacialLight, the LED lighting division of GlacialTech Inc., announces the natural sunlight GL-BL60-NL series. With a CRI of 97, as well as the CQS (Color Quality Scale) is up to 97. The color fidelity index (TM-30-15 Rf) and color gamut score (TM-30-15 Rg) are close to natural light. The GL-BL60-NL can be mounted on ceiling or ground surfaces to project onto walls, as well as comes in suspension chain, pendant rod and outdoor stake options. It also features with dimming function for greater lighting flexibility.
The GL-BL60-NL is an adjustable bay light and rugged enough to be used both indoor and outdoor with IP66 rated. It can operate at ambient temperatures from -40°C ~ +50°C. The bracket can rotate 360 degrees horizontally, and 180 degrees vertically for complete lighting freedom. It can be angled downwards or upwards, adding even more options for lighting applications.
The natural sunlight GL-BL60-NL series can improve the light experience for human health benefits. It closely matches the spectrum of natural sunlight and harmonizes light output with natural circadian rhythms. The GL-BL60-NL is well suitable use in the museum, art gallery, supermarket and indoor plant wall.
Features:
High CRI is 97.

High CQS is 97.

TM-30-15 Rf is up to 96.

TM-30-15 Rg is up to 102.

IP66 rated.

The bracket can adjusted 360 degrees horizontally or 180 degrees vertically.

Available surface mounted, suspension chain, pendant rod and outdoor stake.

Dimming function optional.
Specifications:
Model No.

GL-BL60-NL-WW

GL-BL60DA-NL-WW

GL-BL60-NL-NW

GL-BL60DA-NL-NW

GL-BL60-NL-CW

GL-BL60DA-NL-CW

Energy Used

55W

Rated Life

30,000 Hours

Input Voltage

100-240V AC

(Driver with CUL Certificate Support 277V AC for North America only)

Power Factor (PF)

0.98 at 120V AC, 0.94 at 240V AC

CCT (color)

3000K

4000K

5000K

Luminous Flux

4700 lm

4950 lm

5150 lm

System Efficacy

85 lm/W

90 lm/W

94 lm/W

CRI (Typ.)

97

CQS (Typ.)

96

97

97

TM-30-15 Rf (Typ.)

95

96

96

TM-30-15 Rg (Typ.)

102

102

103

Beam Angle

60° / 120° with lampshade

Dimension

Adjustable height
Ø197 x 192mm ~ Ø197 x 252mm

IP Rating

IP66

Operation Temperature

-40°C ~ +50°C

Net Weight

2.1 kg (with driver & lampshade)

Package

4 Boxes / Carton
Read more information about the GL-BL60-NL, please visit:
http://www.glaciallight.com/products/Natural-Sunlight_GL-BL60-NL.htm
About GlacialLight
GlacialLight, the lighting division of GlacialTech, manufactures LED lighting solutions for indoor/outdoor applications and both residential and commercial uses. As well as having a wide range of finished LED lighting products, GlacialLight also offers its clients the option of customizing products for specific needs. Please visit the company homepage at www.GlacialLight.com.