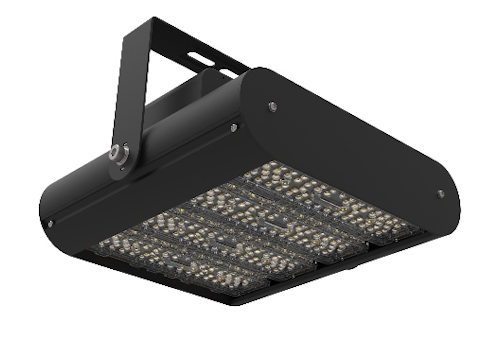 European lighting manufacturers and specialists, Venture Lighting Europe, has launched VFLOOD, a new professional LED Floodlight range designed for low maintenance in corrosive environments.
Venture Lighting has launched the VFLOOD to offer a longer performance life and the design is perfect for use in high corrosive environments including swimming pools, coastal areas and offshore environments. The design is low profile and features a variety of usage benefits, including high energy saving capability.
As part of Venture's OEM product range, the Professional VFLOOD Floodlight is manufactured from a galvanized steel body with extruded aluminium side panels, which are spray plastic coated to a thickness of 60-80um. The modules incorporate individual aluminium heatsinks offering thermal benefits and improved corrosion resistance.
VFLOOD comes in a range of wattages from 55W to 190W. The floodlight has a rated life of 60,000 hours and colour temperature of 4,000K, with a colour rendering of 80 (Ra).
The long life of the LED floodlights ensures that the installation requires minimal maintenance and eliminates the need for regular replacements. As with many of Venture's LED products, VFLOOD is also IP67 rated with impact resistance of IK08.
Paul Mettham, Product & Marketing Director at Venture Lighting Europe, commented, "Our new VFLOOD has been developed to provide customers with new and improved benefits for professional flood lighting. VFLOOD has already become a sought after product by our customers and we are confident its energy saving benefits will provide an improved environmental performance from floodlighting fixtures".
Venture has developed the VFLOOD range to deliver significantly higher performance levels using the latest in LED technology. VFLOOD has been designed for use in tough weather environments and also includes a 5 year warranty.
Further information on Venture Lighting Europe is available from the company on 01923-692600, by emailing: info@venturelighting.co.uk or by visiting the company's website at www.venturelightingeurope.com