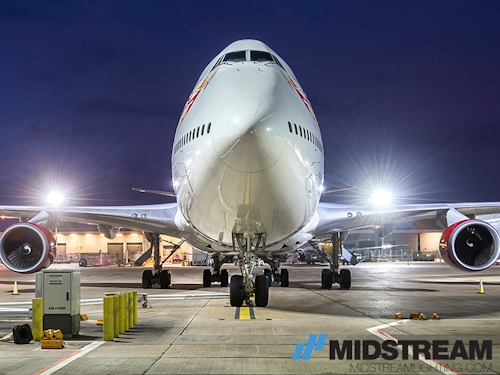 Midstream Lighting, a leading global manufacturer of advanced LED high-mast, obstruction and navigation lighting, announces its expansion into the North American aviation lighting market with its highly advanced, high-mast LED lighting fixtures. Its products feature unparalleled, advanced technology and offer numerous advantages, including longer product life, higher reliability, enhanced quality of light, longer warranties and the ability to withstand extreme weather conditions all at a reasonable price point.
Born in the aviation industry, the company's high-mast lighting fixtures have been tested and proven in 40 countries and more than 100 airports, marine ports and other transport infrastructures. Its products boast a longer product life and reliability than most on the market ­- up to 100,000 hours per fixture.
The advanced technology is what gives Midstream products a competitive edge. Its fixtures feature a proprietary optic lens system that delivers one of the highest asymmetric distributions available in the market. The fixtures include integrated drivers, increasing longevity and reliability compared to remote located drivers, and are also more cost efficient to install. The advanced extruded heatsink technology provides a more efficient thermal dissipation compared to die-cast. Additionally, all fixtures are made with stainless steel to provide better resistance to corrosion throughout the lifetime.
"Because our products are designed specifically for airports, we are able to address the unique challenges these installations are facing rather than taking a one-fixture-fits-all approach," said Yuli Grig, Commercial Director of Midstream Lighting. "While we offer specialty products and advanced technology, we are able to offer them at a cost-efficient price point thanks to lighting and design optimization, which often eliminates the overall number of fixtures required for illumination."
Midstream specializes in assisting with lighting from the master-planning stage to the detailed design stage, specing installations that meet ICAO, FAA, CAA and EASA compliance requirements and each project's unique needs. It services major international hubs, small regional airports, private FBOs, military airfields and operators of aerodrome infrastructure in the U.K., Europe, Latin America, Asia, Africa, and now, North America with UL-certified products.
ABOUT MIDSTREAM

Midstream Lighting is a leading global manufacturer of advanced LED high-mast, obstruction and navigation lighting for the marine port, aviation and sports stadium industries. Based in the U.K., and serving the global marketplace, its products feature cutting-edge LED technology including a proprietary optic lens system delivering one of the highest asymmetric distributions on the market. Midstream is dedicated to designing and manufacturing the most highly advanced, reliable and affordable specialty LED lighting supported by exceptional customer service. The company's innovative solutions and rapid growth have earned the Queen's Award for Enterprise: Innovation and its recognition as a FT Future 100 UK company. For more information about Midstream, visit midstreamlighting.com.
# # #
MEDIA CONTACT
Midstream Lighting
Jana Perlet
jana@midstreamlighting.com