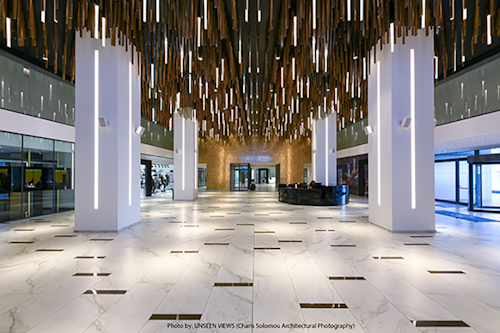 Illumination Physics is famous for integrated façade lighting, however that is not all we do. A recent project in Cyprus shows a different side of our activities, albeit with the same focus of project specific custom design.
The Radisson Blu Hotel opened its doors to the public in October 2018. One of the new breed of hospitality venues in the rapidly expanding Cypriot leisure market, this Radisson is actually the first business hotel set in an evolving economy. The influx of ex-patriot investment and the opening of casinos in Cyprus for the first time has created an exciting but competitive market in which the developers must make strong visual statements if they are to stand out in the rapidly changing business landscape.
The Radisson Blu is illuminated externally with dynamic lighting by illumination Physics to draw guests' attention, as the sense of arrival is critical to their experience. Like most modern hotels, the Radisson Blu has an integrated shopping mall. To succeed, this mall needed a point of difference, both in spectacle and personality.
A big statement was required.
Therein lay the genesis of the grand chandelier that was conceived of by local architects Fluid Design and Cypriot lighting designers Archtube.
Our challenge was to design the pendants so that their elegance and function befitted their purpose. To meet the challenge, we proposed the following:
All fixtures should use white light only with a colour temperature of 2700K.
All fixtures were to be 50mm in diameter.
A gradient in the illumination level over the length of the fixture was desirable (some early tests had been done with continuous linear LED illumination, but the result resembled the homogenised image of a fluorescent tube, which was entirely the wrong image.
No shadows should occur within the pendant.
The majority of the fixtures should have an illuminated section of 700mm, contiguous from the plane of the ceiling to the bottom of the pendant.
A lesser quantity of the pendants would have an illuminated length of 700mm PLUS an unilluminated section length of 400mm.
Both types were to terminate into the ceiling with no visible fixings.
A diameter of 50mm should be chosen.
With regards to drivers and dimming, there were several options that were discussed.
The most elegant solution presented itself to us, namely that we could create 63 groups of fixtures and have individual dimming control over each group. Further, illuminated pendants could be allocated to these groups in such a way so that a sea of slow motion could be created – this option is what we eventually selected.
With regard to the driver protocol, the client requested DALI to interface them with their in-house KNX control system.
The lighting effect fulfils the promise of the initial design. Like a vast invertedforest, both the timber and the illumindated pendants add great interest to a grand space, providing an aspirational design looking to the future.