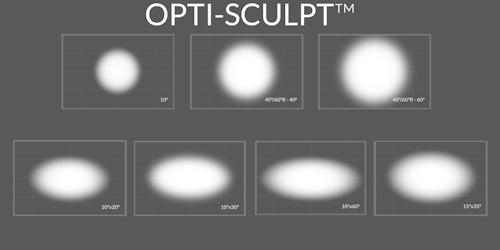 FOR IMMEDIATE RELEASE
CONTACT:
Kim Szondy
+1 203-541-5228
kim.szondy@rosco.com

ROSCO ANNOUNCES THE INTRODUCTION OF OPTI-SCULPT™ FILTERS
Filters Engineered For Precise Beam Shaping

(Stamford, CT USA) – Rosco Laboratories, a global leader in lighting and color technologies for the architectural, entertainment, and film and television industries announced today the release of their new OPTI-SCULPT filters.

"We're thrilled to introduce OPTI-SCULPT. These filters have been engineered to enable lighting professionals to accurately control the shape of their light," said Tracey Cosgrove, Rosco's Director of Products. "Rosco has been coloring and shaping light for 108 years, and OPTI-SCULPT filters are a continuation of that legacy. This important innovation will allow our customers to achieve new lighting control with their current fixtures in ways they never could with existing diffusion filters."

While they were designed for use on LED fixtures, OPTI-SCULPT filters are heat resistant, making them suitable for use on traditional tungsten instruments as well. The filters come in 20" x 24" and 40" x 24" (50cm x 60cm and 100cm x 60cm) seamless sheets that can be cut to any size and shape - offering lighting designers an abundance of flexibility and versatility to use these filters on virtually any fixture at an affordable price.

There are six different symmetrical and asymmetrical patterns currently available: 10°, 10°x20°, 10°x30°, 10°x60°, 15°x35° and the unique 40°/60° Reversible. Additional patterns are already in development and are expected to debut later this summer.

Unique features include:
Engineered and laboratory tested for accurate and repeatable beam shaping

High transmission vs. standard diffusion materials

Manufactured using heat-resistant, flame-retardant polycarbonate

Durable – the filter's performance is not adversely affected by dust or fingerprints
For more information, visit www.rosco.com
About Rosco
Founded in 1910, Rosco is a leader in products for the architecture, entertainment, film & television, and photography industries. Best known for lighting filters, the company offers product lines in more than a dozen categories, including LED fixtures, dichroic glass filters, lighting effects equipment, fog and haze machines, flooring, green & blue screen paint and backdrops for film, television and broadcast. Rosco has been recognized with four Academy Awards® for the development of innovative products and systems for the production of feature films. Headquartered in Stamford, CT, Rosco maintains fully staffed businesses in France, Brazil, Canada, Spain and the United Kingdom. For more information about Rosco, visit http://www.rosco.com