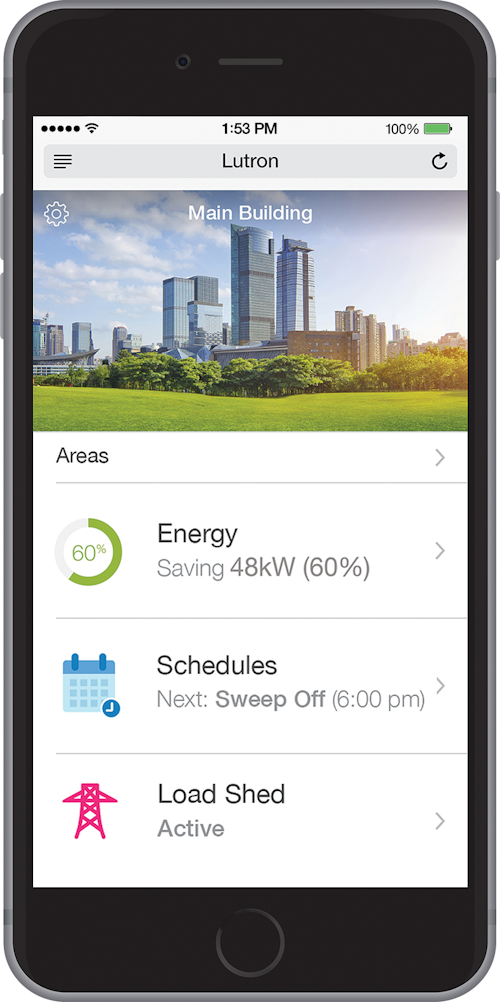 Lutron Electronics, the leader in lighting controls, today announced the launch of Vive Vue, a simple-to-use software that provides robust intelligence to facility managers, enabling more informed building-operation and management decisions. The new software delivers information about how the building is actually being used, from how much energy is being saved to how often people are using the conference rooms, enabling building operations teams to maximize energy efficiency, space utilization, comfort, and productivity.
From a PC, tablet or smart phone, Vive Vue users can control and configure the lights as well as monitor, analyze, and report on the activity and performance of the lighting system in the building. The software also facilitates intuitive graphical reporting on space utilization and occupancy patterns. Facilities teams can reduce costs and improve occupant satisfaction by using lighting control system information to make better decisions about layouts, room type mix, and even total square footage requirements. Vive Vue software advances Lutron's mission to simplify smart building technology and ensure more spaces benefit from being IoT-enabled and more effectively controlled.
"As the industry advances toward smarter solutions that provide more building data, we are seizing on an opportunity to deliver a product that doesn't require users to choose between simplicity and intelligence," said Scott Hanna, Vice President, Commercial Systems and Communications at Lutron Electronics. "The Lutron Vive Wireless system proves that smart building solutions don't have to be complex to install or complicated to use. Vive Vue provides comprehensive, data-driven building analysis that uncovers opportunities for efficiencies and improved operations."
Vive Vue enhances Lutron's Vive Wireless system, which delivers simple, scalable, wireless lighting control solutions ideal for virtually any commercial space including office buildings, K-12 schools, college campuses, and government buildings. The Vive Vue software aggregates data from all Vive-enabled technologies, including the new Vive Wireless Fixture Control, a wireless lighting control solution that can turn any fixture into a wireless, smart fixture.
Vive Vue software can accommodate budget and building needs; it can be included with the original hardware installation, or it can be added later without replacing or changing any hardware. "With our Vive Wireless system, you can now start with a single room, build out one area at a time, and add the building intelligence when you need it," said Matt Ochs, Product Management Director – Commercial Systems. "This simplicity and scalability allows more commercial buildings to realize smart-building benefits, whether the project is new construction or retrofit."
To learn more about Vive Vue or Vive Wireless Fixture Control, visit Lutron.com/Vive. To experience Vive Vue building management and data aggregation capabilities, visit Lutron at booth #2431 at Lightfair International 2018 where the product will be on display, or contact your local Lutron representative or salesperson to schedule a demonstration.
About Lutron Electronics (www.lutron.com)
Founded in 1961, Lutron Electronics is headquartered in Coopersburg, Pennsylvania. From dimmers for the home, to lighting management systems for entire buildings, the company offers more than 15,000 energy-saving products, sold in more than 100 countries. In the US alone, Lutron products save an estimated 10 billion kWh of electricity, or approximately $1 billion in utility costs per year. The company's early inventions— including the first solid-state electronic dimmer invented by Lutron's founder, Joel Spira—are now at the Smithsonian's National Museum of American History in Washington, DC.