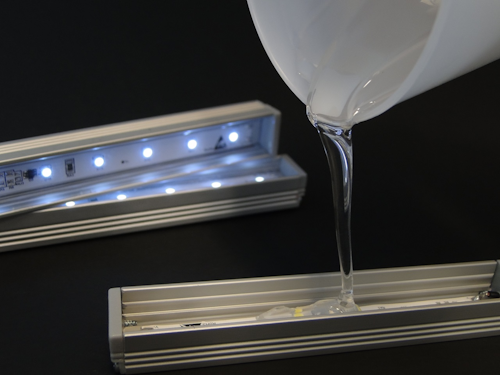 Thanks to the large variability of basic materials and/or options of chemical modification, casting compounds based on polyurethane resins can be offered in a large variety as regards viscosity, colours, processing times and hardness or elasticity, almost custom-tailored for many areas of application.
From the Peters portfolio, the crystal-clear and highly transparent ELPECAST casting compounds of the series Wepuran VT 3402 KK are suitable for protecting LED technology / lighting electronics, thanks to their good temperature stability, very good weather resistance and an outstanding UV light stability.
Solutions are available for many different requirements such as under-water use, weathering and sun light exposure when used outdoors, flame resistance / non-flammability (UL approval) for safety-related applications, e.g. emergency lighting in tunnels or buildings, or the encapsulation of LED strips in aluminium profiles.
When taking a look at the safety data sheets of polyurethane-based casting compounds which are common in the market, one could ask whether this variety of applications does not come at the cost of user's safety.
Since Peters have committed themselves to a sustainable development and a responsible handling of people and environment, a maximum of desired final properties along with a minimum of processing hazards is targeted.
For this reason, none of our ELPECAST Wepuran casting compounds contains hazardous substances, the use of which is restricted by RoHS directive 2011/65/EU: They are free from mercury, lead, cadmium, hexavalent chromium, polybrominated biphenyl (PBB) or polybrominated diphenyl ether (PBDE) and the phtalates listed in the extended directive 2015/863/EU. High performance ELPECAST Wepuran casting compounds such as those of the series VT 3402 KK do without toxic, skull-labelled isophorone diisocyanate hardeners (IPD).
From the pure chemical basis of the resin (polyol) and the hardener which is common for such products (isocyanate), labelling is necessary. The hardener formulated with the isocyanate group has to be classified as dangerous substance; it is sensitising, irritant and hazardous to health. As for the polyol component, classification covers irritant and sensitising up to hazardous to the environment, depending on the additives formulated.
Nevertheless, the hazard potential can be minimised through operational and personal measures of protection according to the manufacturer's recommendations, and/or those given in the safety data sheets. By a safe handling of chemicals, users can avoid potential health hazards during processing. Once cured, the casting compound no longer presents any of the hazards mentioned.