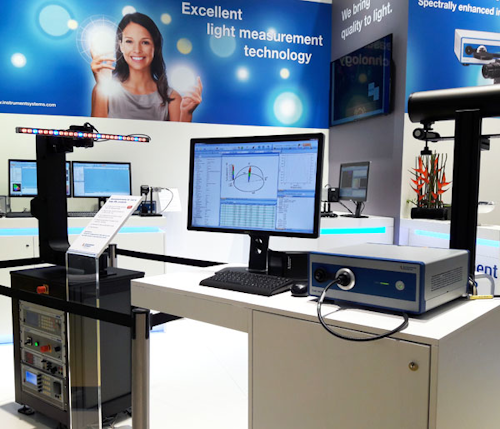 At Strategies in Light in Las Vegas / USA from 27 February to 1 March 2019 Instrument Systems will be casting a spotlight on applications for high-precision spectroradiometers. Advanced lighting technology for the measurement of solid-state lighting sources will be demonstrated at several photometric and spectroradiometric measuring stations at booth #10506. Among the highlights are the new LGS 650 goniophotometer and common measurement applications for VCSEL/laser, UV LEDs and high-power LEDs. The portfolio will be complemented by color and appearance measuring instruments of our US sales partner Konica Minolta Sensing Americas.

The globally recognized reference device, the spectroradiometer CAS 140D, forms the system basis for many applications and has now been joined by our special model, the high-resolution CAS 140CT-HR. The design of the CAS 140CT-HR is particularly geared for the measurement of narrowband emission sources, e.g. laser diodes or VCSEL. Extremely high spectral resolution of up to 0.2 nm full width at half maximum and particularly short integration times as low as 9 ms make for fast tests in the laboratory and production.

We invite you to discuss your special measurement tasks with our experts at our booth and listen to Instrument Systems' expert lecture about blue light hazard.

Lecture information: "How Safe is Your Lighting Environment? An Evaluation Guide for Blue Light Hazard" Dr. Ðenan Konjhodžić, Oceanside C, Thursday, 28 February 2019, 1:45 PM local time.
Company portrait of Instrument Systems GmbH
Instrument Systems GmbH, founded in Munich in 1986, develops, manufactures and markets all-in-one solutions for light measurement applications. Its core products are array spectrometers and imaging colorimeters. The company's main fields of activity are LED/SSL and display metrology, spectral radiometry and photometry, where today Instrument Systems is one of the world's leading manufacturers. The Optronik line of products for the automotive industry and traffic technology is developed and marketed at its Berlin facility. Instrument Systems has been a wholly-owned subsidiary of the Konica MinoIta Group since 2012.
Further text material and photos:
https://services.instrumentsystems.com/owncloud/index.php/s/wn39Z06nMJ7M2ZG
File copy requested to:
Dr. Karin Duhnke, Instrument Systems Optische Messtechnik GmbH, Kastenbauerstr. 2, 81677 Muenchen, Germany Tel. +49 (0)89-45 49 43-426 E-mail: duhnke@instrumentsystems.com