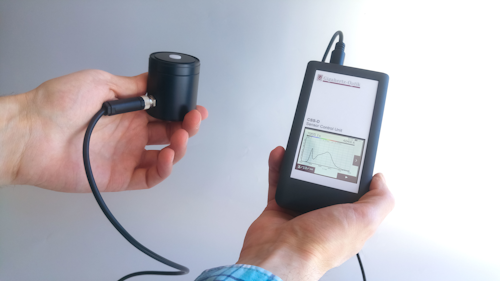 Hand-held Spectroradiometer with Tethered Detector
The CSS-D Display Unit provides convenient handheld operation and control of a remote CSS-45 spectroradiometer head for the precise measurement of spectral irradiance (360-830nm), comprehensive photometric and colorimetric data as well as application specific data such as PAR PPFD. An internal shutter automates dark level measurements thereby facilitating accurate remote operation over extended periods. The sensor's compact metal housing is IP62 rated (IP65 with glass dome fitted). SDK option.
Key Components & Features
Compact cabled sensor for remote measurement capability
Internal shutter for auto dark level cancellation
Compact, light-weight, battery powered & rechargeable
Simple intuitive operation via color touch screen display
Cosine field of view
Simple dark current calibration without detector cap
Spectral measurement method
Photopic and scotopic illuminance and S/P ratio
Color temperature with display of color sensation
Color rendering indices
Effective bilirubin irradiance measurement
PAR measurement
USB interface
User configurable software – SDK option
Traceable calibration & certification
Gigahertz-Optik is a world class manufacturer of innovative UV-VIS-NIR optical radiation measurement instrumentation for specification critical industrial, medical and research applications.